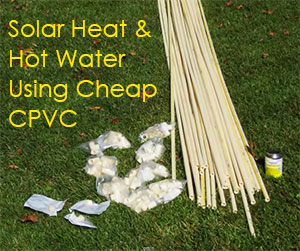 By now everyone and their grandmother has seen evidence that solar power is something we can all take advantage of. But did you know that what you don't know about solar power can hurt you financially for 15 to 20 years? Come explore the true pros and cons of today's solar energy options, you won't believe how good & bad solar has gotten lately.
Lucky for you I'm a bit of a cheapskate when it comes to spending money on gadgets that my wife doesn't quite yet approve of. Solar power is one of those things that has been exploited to the point that an average Joe can sign on the wrong dotted line and cause serious financial consequences for his family. 
Because of these newly created pitfalls that I will touch on below, I began doing research on affordable solar power projects that people are documenting and doing today. These are proven ideas that continue to work and best of all they are inexpensive to setup in most cases. Simply trade in a few hours of your free time and a couple trips to Home Depot and soon you too can join the affordable solar club. I'll show you where you can find how-to guides, materials, and people who have already built devices that will dramatically lower your utility bills. Conventional solar panels are not the only way you can save megabucks every year, keep reading.
Now my wife does want to save energy; after all, we just ate a $418 power bill for December. However, if you begin your solar research like I did, you will find 2 things at first glance. Number 1: Solar power kits for the house are over $10,000 and Number 2: You can get solar power for your house dirt cheap by signing up for a solar lease. The latter has become a problem for many people already, and since my wife and I are very keen on not wasting our money, I dug deeper into the web to uncover what savvy homeowners are doing that know a little about the science of solar. 
What I found is that there are several projects almost anyone can do at home, if they are willing to tackle building things like solar hot water collectors and holding tanks. At first I was not interested in solar hot water, but that was before I read countless articles on the internet. Solar hot water can be used to heat your home, provide almost unlimited hot water, and of course my favorite, dramatically lower your utility bills. Best of all these systems can be built on a shoestring budget, which is the only way I can make my wife release her Kung-Fu grip from my debit card. Keep reading and check out all the resource links I collected for you below. You will be just as amazed as I was when I discovred how easy it really is to begin testing these solar gadgets. 
Why Are Solar Lease Programs a Bad Idea?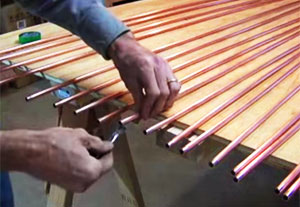 Do-it-yourself Solar Hot Water Project
Well those solar lease programs seen on TV commercials are a fantastic way to get solar power quickly, but what most people don't know is that you will forfeit most of the benefits of having solar to the leasing company itself. They will get all the federal tax credits, rebates and incentives, you get a 15 to 20 year lease that most people would run away from, if or when you ever decided to sell your home. Did I mention that you will never own the solar panels nor will leasing the solar panels make any real financial sense? That's right, my constantly updated (evergreen) article will get you into solar power without 15 to 20 years of regret!
Read more about Why Solar Lease is a Bad Idea on the Wholesalesolar.com website. 
Don't worry, this article is not about destroying your dreams to getting cheap clean energy from the sun, in fact, this article is all about how to get solar power to work for you while spending as little cash as possible. Below you will find links to amazing articles and complete step by step how-to videos, that will show you how to build cheap but very effective solar devices. Many of these solar projects are taken on by families such as a husband and wife team or dad and son or daughter teams.
So bookmark this amazing guide, before your computer crashes and you loose it forever!
Welcome to the Living Article on Cheap Solar Projects
So friends, my research has just begun, because this article will be what I call a living article.  I will continually add, revise, and announce new tutorials, gadgets, and places to buy your materials for cheap. Expect this article to grow into many sections as I find what other interesting people are doing all across the internet. I will also be posting photos, videos, and links to my solar projects. 
Amazing Links For Do-it-yourself Solar Powered Projects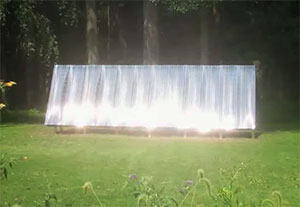 Pex Solar Hot Water Collector
Solar Hot Water Projects for Heating and Hot Water Generation Systems
Solar Hot Water - What is it really, and what benefits do you stand to gain buy buying or building an affordable solar hot water system? A solar hot water system consists of a collector, storage tank, and a water pump. These devices can be constructed out of plywood, aluminum coils, a garden hose, and plumbing pipes made out of PEX, CPVC, or Copper. Using the materials I just mentioned, you can create your own collector and start testing as early as this week! 
Here are some detailed guides on building a solar collector that's 1/8 the cost of a commercially purchased collector.
Nice looking Copper Solar Collector by Build It Solar (Article)
Solar Collector and Custom Water Tank by Matt from Philadelphia Pennsylvania (PDF)
Generate 100% of your heat and hot water using the sun, like the people linked all over this page.  Many of these people have generated more than 90% of their hot water needs using only solar energy. 
Building a Solar Hot Water Collector Using Cheap Pex Tubing (Video) 
Building a Better Solar Hot Water Collector Using CPVC Piping (Video) 
Building a Solar Hot Water Collector Using Copper Pipes and Copper Sheets (Video)
I really like this idea, although copper is not cheap. You can easily buy the copper pipes and tubing at your local Home Depot or Lowes Home Improvement Center. 
 Comparing a CPVC Solar Collector Versus a Copper Collector (Article)
More Affordable Solar Power Projects

Coming This January 2015!
Oh oh!  I have good news and some not so good news for you. The good news is that I'm actively researching affordable solar projects you and I can both build at home. The not so good news is that I have not finished writing my results. But don't worry, this is an evergreen article, because I plan to add links, how-to guides, and useful tidbits to this page for the life. So with that being said, please bookmark this page using your browser right now.
It's the little star icon on Google Chrome & Firefox, or the + button in a Apple Safari browser.