Upgrading your Existing Kitchen
Everyone wants a new kitchen, because it has become the trademark entertaining space of a home. Small kitchens just don't cut the mustard anymore in today's homes, homeowners know that investing in a Kitchen is always a worthwhile and profitable investment.
So you need a new kitchen and you most likely have a few ideas of what this new kitchen should have. Professionals make kitchen design, kitchen remodeling, and kitchen extensions easy for homeowners who live within the Connecticut borders.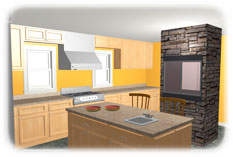 With the latest architectural software you can virtually create your kitchen from scratch using any materials that can be purchased at any supply house. Imagine seeing your new kitchen in virtually reality, making changes to it before construction begins. At a kitchen design center you can completely fine tune every aspect of their kitchen designs before we set our first tool box on their kitchen floor.
What if your kitchen space is too small?
Small kitchens are no problem for the experts at Simply Additions. Depending on your home type and lot layout, check out our kitchen addition that will allow you to truly get the entertaining kitchen you really want.
How much is it going to cost?
The cost of a new kitchen truly depends on the options and features you choose to have factored in. Our company provides solid estimates, online.
5 Kitchen Remodeling Articles to Help You in Your Research