Granite is unarguably a kitchen's best friend.
The sheer elegance and oomph factor that just a splash of granite anywhere in the kitchen can add is simply unbelievable.
The other advantage is that it is highly durable and comes in countless designs, styles and colors.
However, one drawback is that it is extremely expensive, which leaves little room for experimenting with this gorgeous natural stone. Compromising on granite tiles or modular granite stone slabs is a good idea for someone running on a low-budget, but the look will surely suffer. Hence, we have compiled a list of some beautiful yet inexpensive granite countertop choices that are best suited for kitchen countertops.

Uba Tuba or Green Labrador Granite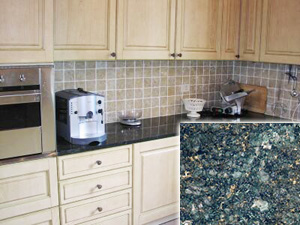 This Brazilian stone is one of the cheapest granite stones in the market since it belongs to Class A products. It is more appropriate for kitchens painted in white or lighter shades because it comes in dark bright green shade with sparkling silver, gold and tan flecks. If you are going for a DIY approach then a 1 ¼ inch thick Uba Tuba counter top slab will cost around $250 to $400 depending on the size required, and you can have it for as low as $25. If you want professional help then the whole package including fabrication and installation will cost you about $40 to $60 per square foot.

Tan Brown Granite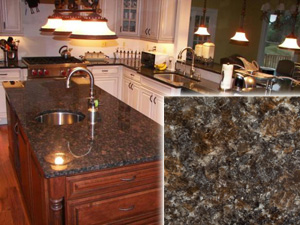 For those who want to have a slab in brown or earthy tones, this will be perfect. Quarried in India, this stone has an utterly elegant outlook due to the presence of black as its background color with brown spots and grey streaks. The stone comes in two different shades of brown I-e light and dark and the grey shading also depends upon the color of slab. It is one of those stones that require least amount of maintenance, and can easily blend in with the cabinets and overall ambiance of your home's earthy outlook. The price range starts from $30 to $60 per square foot.
Silver Pearl Dark Granite or Black Pearl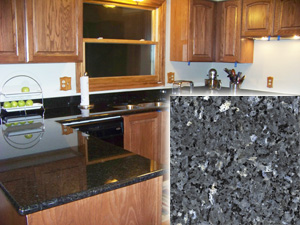 It is regarded as one of the most durable stones on earth since ages. This beautiful stone will be a great choice to make your kitchen appear glamorous and sophisticated simultaneously due to its multicolored hues. It is primarily imported from Norway and some of its lower qualities are quarried in India. It happens to be a little bit high on price since it belongs to class B. It has black as its background color and streaks of blue, silver, green and gray run all around its surface. You can get it in between $40 to $55 per square foot.
Venetian Gold Granite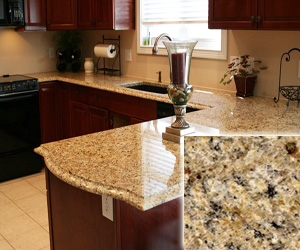 This stone belongs to class B, but it is on a relatively lower price range. It is honey-colored or golden with flecks and streaks of light brown and amber. The best thing about this stone is that it is suitable for almost every possible color scheme since golden shade looks and blends equally well with all. Do-it-yourselfers should know that this beautiful granite countertop slab can be bought for around $40 per square foot, but if you want professional installation, then the price will be increased to about $50.

White Kashmir Granite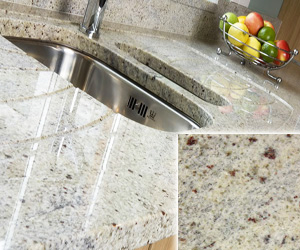 This stone comes in varying shades of white, creme and off white and can provide clean and sophisticated look to your kitchen. It is imported from India, and it belongs to the class B category. The stone has streaks and spots in grey, green, and crimson shades. You can buy a pre-fabricated slab for as low as $200 to $300, whereas the package costs about $50 per square foot.
So there you have it, we went over the details of the 5 most beautiful yet inexpensive granite countertop choices for your kitchen or bath. The color you go with will largly depend on what type of cabinetry and color scheme you are trying to match. Some granite choices like the Venetian Gold seem to go well with almost any color combination, while others require you to design around them.
Either way, granite countertops will make a wonderful addition to your house and without a doubt your family and friends will compliment you for getting them.
---