When you decide to renovate your kitchen you'll be bombarded with decisions you'll need to make.
Sinks, flooring, lighting, countertops, faucets and appliances will be some of the item you'll need to select.
But the kitchen cabinets will by far, be your most perplexing decision. There are many styles, materials and colors to choose from.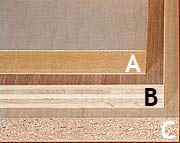 The most important determining factor for kitchen cabinet quality will be the material. Kitchen cabinets are most commonly built using plywood (A), MDF (B), or particle board (C). A plywood cabinet will almost always be of the highest quality when compared to MDF (medium density fiberboard) or particle board. It is very rare to find solid wood cabinets, and if you do find them they are not as good as they sound, they warp easily and crack easily. MDF or particle board cabinets can also warp easily but they absorb moisture very easily which results in swelling and odor absorption. Another important determining factor in selecting a good cabinet will be the finish. Any wood cabinet will usually have a veneer covering that is used to make the cabinet appear to be made of solid wood. A good quality cabinet will not have a paper thin veneer. If the cabinet is stained you want to check for consistency, if you have a wall of 16 cabinets you should expect some slight variations in shade, but be sure to tell your cabinet supplier that you want a good consistency in the cabinets.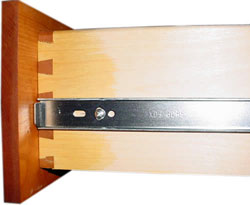 A good place to look when trying to determine the value of your cabinetry will be the drawers. Good drawers will have nice joinery and solid fastening systems. A cheap drawer will usually be stapled together, you will also notice a lot of sloppy glue and scratch marks from the manufacture. Those are all signs of a kitchen cabinet that is not of a high quality. Another way to check on the quality will be to observe the hardware. A good drawer will have roller slides, rollers and tracks or ball bearing extenders. The cheaper drawers will open and close on a plastic runner system. The hinges on the cabinet doors should be adjustable in all directions. Some of the cheaper cabinets do not offer adjustable hinges. You also want to make sure that the doors and drawers can be aligned perfectly using the adjustable hardware.
| | |
| --- | --- |
| | |
A good way to save money on cabinets is to order them un-assembled. You can save up to 50% on the cost of a cabinet when they are shipped ready to assemble. The shipping cost for assembled cabinets can be 4-5 higher than un-assembled cabinets. Not all suppliers are willing to sell you un-assembled cabinets so make sure to ask before going too far with them. Another important factor in a good cabinet will be the packaging material and method.
Some of the lower quality cabinets are shipped in thin cardboard boxes with barely any protection such as Styrofoam or bubble wrap. Even if you do get a cabinet that was damaged in shipping, most suppliers will order a replacement at no cost. But waiting for one replacement cabinet can delay your countertop installation by a month.
Every level of cabinet quality has its place, weather you are outfitting your dream home, renovating one of your rental properties, or flipping a house you'll need to decide on how long you plan on using those cabinets and how often will they be used.
---