If you're looking for a home improvement project that will give you the best return on your investment, increase your square footage and add to the overall value of your home, then look no further than a picture perfect kitchen addition.
A kitchen addition can be anything from a basic extension for a kitchen island or as complex as a adding a new pantry, breakfast nook and butler's pantry.
With so many options available and such a large investment on the table, it's a good idea to take your time and research the many options for your kitchen addition.
Use these five tips when installing a kitchen addition and you can be sure you're going to get the perfect kitchen addition for your home.
Kitchen Addition Blueprints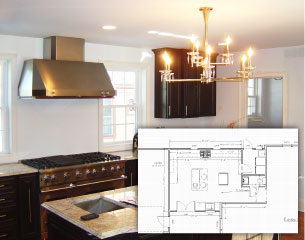 Whether you hire an architect to create your new kitchen addition plans or you purchase kitchen addition blueprints online, knowing what kind of layout you want (and need) for your kitchen addition is a crucial first step. Research as many different designs and kitchen addition plans as possible before committing to one specific kitchen addition layout. Using a CAD blueprint program can help you to visualize what your kitchen addition might look like and will allow you to mix and match design options on paper before actually beginning the project. Also don't forget to browse through our Kitchen Extension Designs, House Plans, and In Law Apartment Additions Plans for more inspiration and ideas.
P.S. You can email us your hand drawings and ideas and we might just create a new kitchen extension package out of it and name it after you :)
Budget

Creating a budget is more than just choosing a dollar amount and building a new kitchen addition. It takes careful planning, plenty of research and a detailed cost breakdown list of materials and labor. Begin defining your kitchen addition budget by researching and pricing the design options and materials available for a kitchen addition. When receiving estimates from potential kitchen addition contractors, it's a good idea to ask for a cost breakdown list of materials and labor that will be used for your kitchen addition. Have them provide you with a list of the brand name materials they use, what contractor discounts they employ and if they are willing to substitute their material options for your own choices. This can help you to get the best deal possible when it comes to building a new kitchen addition.
Contractors

Hiring the right kitchen addition contractor for your project is crucial to its success. But with so many different building contractors available, it can be difficult at best to find a kitchen contractor that suits your needs and wants for a kitchen addition. When searching for potential kitchen remodeling contractors, it's best to ask for them to submit at least five references from past kitchen addition clients to ensure that they have plenty of experience in the field. Besides the right licensing and insurance, a kitchen contractor needs plenty of experience with kitchen remodeling to get the job done right. We provide a free contractor locating service, where we find your best bets in your local area. Simply fill out the form at the bottom of this article to get started.

Appliances

If you're in the market to have new appliances installed in your kitchen addition, then you can be sure you're going to have to do plenty of research before you buy. While many well respected brands are available for kitchen appliances, choosing one that suits your needs best can be a tough job. When choosing appliances for your kitchen addition, consider the options, prices and warrantees that vary between competitors before you buy. You may find that while one brand is cheaper, it doesn't have the lifespan, design features or options you need for your kitchen addition. Check out all the big box store websites as well as your small local shops to compare prices and read customer reviews. Sears, Amazon.com, and BestBuy all sell appliances and they also provide customer reviews. You can also subscribe to Consumer Reports to see what they have to say about your picks as well.

Cabinets
Most new kitchen additions get some form of cabinetry installed. When choosing a cabinet style for your new kitchen, you'll need to know what materials will be used for the cabinets. All-wood cabinets have a long lifespan, a great look and provide a huge return on the initial investment, yet they are more expensive than conventionally engineered wood cabinets. Also be sure to ask for multiple design options when choosing a cabinet layout. This way, you can be sure you get the best kitchen cabinet layout for your kitchen addition before you commit to a contract.

Now you have more knowledge at hand to properly plan and execute your kitchen addition project with ease. You can always email us your questions and we'll post our responses online.
---