When you are planning kitchen improvements, you will need to budget your money according to the layout and size of the room, the cabinets you select, and any plumbing or electrical work you want done.
The cost of appliances will add to the total, but you'll enjoy the result of the work more if you have the kitchen you always wanted.

Kitchen cabinets come in many styles and price ranges, depending on your budget and your sense of aesthetics.
You can select your cabinets from different manufacturers, and they may have special features that you will appreciate. Your kitchen remodel project can make or break the room, depending on the cabinets you select.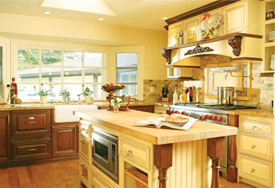 Countertops are also an important part of your new kitchen. You can select from quartz, granite, ceramic tile and laminates, and if you are not able yourself to install them, you can hire a contractor to do the work for you. This is one area that you certainly don't want to cut corners, since you'll be preparing food on your countertops every day.

Laminate is a commonly used material for countertops, and you can find it in many colors, finishes and textures. It wears well and will cost the least, initially, in your kitchen improvements. You can edge your laminate countertops with wood that matches your cabinets, too.

Granite is a natural stone that is hard to match with other countertops. It will require occasional sealing, and it's hard and durable. Granite is water proof, heat proof and enduring, and always in style. If you plan to sell your home, granite will almost always pay for itself, since kitchens are a main selling point. You can select from various edge profiles and variations in color when you use granite in your kitchen remodel job, and it's almost impossible to mar, if you use it under normal circumstances.

Solid countertops like Corian counters are made from acrylic, and they have many colors from which to choose, as well. They can be scratched if you are not careful, but they can be repaired, too. They are very durable as far as heat is concerned.

When you choose the flooring for your new kitchen, you can select from linoleum, marble, slate, ceramic tile or laminate floors. They can be easily installed by a contractor, and they'll compliment your kitchen improvements.

By the time you gather all the materials and appliances for your new kitchen, you may have spent three or four weeks planning.
The time you need for the job will depend largely on any special items you have ordered, and the time it takes for them to be delivered and installed. A contractor, if you use one in your kitchen remodel, will take out your older cabinets and make any modifications you need, like wall building or removal.

If you hire a professional for your kitchen improvements, he or she can update any electrical outlets that require work to be brought up to code, and change outlet locations to accommodate the layout you have drawn up for your new kitchen. Your supply lines for plumbing can be updated as well, and you may have new drywall installed, or painting done. When you are finished, you'll have the kitchen of your dreams, and you'll realize that it was time and money well spent.
---