It's a known fact that if a homeowner wants to invest money into only one room of the house, they should pick the kitchen because it will give you the most bang for your buck.
Simple inexpensive ideas that will help you improve your kitchen, without breaking your budget.
Kitchen Makeover Tip #1: Paint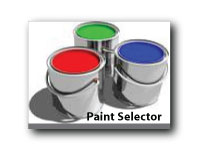 Chipped paint, stained walls, or just plain outdated colors can really date your kitchen. Use the paint selector button to find a new color for your kitchen. Painting your kitchen is cheap and it can truly change the way your kitchen looks. Also don't forget that you can paint wall cabinets too!
Kitchen Makeover Tip #2: Paint, Refurbish, or Re-face Cabinets
New kitchen cabinets can make a world of difference to the look of your kitchen. To save costs, you can paint your cabinets, swap out just the cabinet doors (re-face), and/or change the hardware. These simple kitchen cabinet tips can give you the change you need while keeping your remodeling budget at bay.
Kitchen Makeover Tip #3: Update your sink and faucet
Upgrading your kitchen sink and faucet is simple to do and by click on the button you can shop for your new sink or faucet online. You don't have to spend a fortune to make your kitchen look like a million bucks, just spend your money on the right things first.
Also keep in mind to match metals such as brass fixtures with brass hardware and so on, this will give your kitchen a well designed look.
Kitchen Makeover Tip #4: Look for deals on appliances
It can take some time but if you are patient you can seek out great deals on appliances. Check your local Sears, Home Depot, Lowes, etc. Sometimes these large big box stores can give you a deal on open box kitchen appliances or appliances that have been scuffed or slightly damaged. It's not unheard of for people to save in excess of $500 by shopping around or waiting for a sale.