In this section of our site we will post question and answers to cape addition projects. Email your questions to This email address is being protected from spambots. You need JavaScript enabled to view it." mce_href="mailto:This email address is being protected from spambots. You need JavaScript enabled to view it.">This email address is being protected from spambots. You need JavaScript enabled to view it.
Q: Best Addition for a Cape Cod House
What is the best (most cost effective and most sq footage. I notice a dormer is roughly 20k if you do some stuff yourself, I saw a 2 story addition (family rm/master bdrm) for roughly 60k. I also saw a picture of a cape addition on yr site(in photo gallery)that raised most if not all of the 2nd floor back side of a cape. Is it cheaper to do that then to put 2 dormers in?
-Penny
---
A: Re:best addition for a cape
If your existing cape already has a finished second floor with sloped ceilings and you add a dormer (a full rear dormer or gable dormer) you will not increase your floor space enough to add another room. That is for most of the cape style homes that I have seen out there. These dormers will simply make the existing room larger and add more light.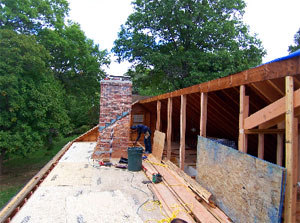 If you are looking to add another room then your best option would be a rear addition. The full rear dormer you see here in the photo was built for a couple who's home had an attic used for storage. In that case we built a rear dormer addition and a front gable addition to add 1 bedroom, an office, a walk-in closet and a bathroom.

Before we showed up the attic had a 7' ceiling height directly under the ridge of the roof and then sloped down to the sides. It was impossible to use that attic for livable space unless the dormers were built to allow for a flat ceiling height.
-Simply Additions
Use our Automated Contractor Locating Service by filling out the form below. It's fast and it's simple.
---