Read this email thread to Simply Additions for Raised Ranch Addition Building Tips.
That's right we can answer you project questions through email, visit our home improvement questions page for more info.
From: John
Subject: Raised Ranch Addition
To whom it concerns, Thank you for your assistance - we love your website and figured you could help us along with our project questions.
Anyway I attached some pictures of my house. Our main goal is too create a Master Bedroom Suite but I'd also like to change around the rooflines of the house to show some peaks etc.. Not sure if a raised ranch house is the best house to do this with. Please let us know what you think
Thank you.
-John and Kelly
---
To: John
Subject: RE: Raised Ranch Addition

Hi John and Kelly,

I have reviewed the photos you've sent us. My first suggestion is to find a good Design/Build firm or an architect in your area.
Usually a good Builder/Architect will give you a free initial consultation; that's a great place to start in terms of suggestions and ideas for your addition.
To prepare yourself for that initial consultation you should create a list of:

1) needs
2) wants(things you would like but are not necessary)
3) rough sketches or dimensions and location of where you think the addition should be, and

4) a budget. You can use our loan calculator to help you determine the monthly cost for your addition that you are comfortable with.
Once you have these items prepared for your initial consultation. The meeting should go very well and many of your questions can be answered on the spot. All of the items are important, but your budget is the most important factor.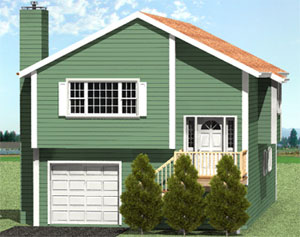 Any builder or architect will be able to tailor the estimate/design to your budget. The budget will tell you how far you can go into the transformation of the existing home and what type of addition you will get. A raised ranch is a very adaptive home style and can be transformed quite simply. Some options may include adding false dormers to the front of the home, and(or) creating a wider/taller front door overhang to reach the existing roof line. Also in your case; if the master suite is going to be built off the back of the home, than a simple approach would be to make the roof lines of the addition perpendicular to the roof lines of the existing home.
Don't forget that a great addition is one that does not look like an addition. Before your builder installs siding and brick to match the existing house, make sure to ask for samples to confirm the styles/sizes/and colors are the same (or very similar).


Once all of your initial consultations are concluded, you should have very clear idea of what is possible. Also please refer to this link for helpful tips on hiring a contractor. If you have any questions before you hire a contractor please feel free to contact us. Simply Additions has set goals to improve and maintain the reputation of the remodeling industry on a national level by guiding consumers such as yourselves to make the proper decisions when embarking on your remodeling project.
---