Step 3: Plans, Permits and Preparation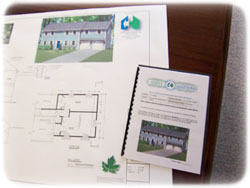 During the Plans, Permits and Preparation phase you will sign a design agreement with a Design Build Firm (Company XYZ). The design agreement usually states that you have hired Company XYZ to be your designer.
The design agreement also states that Company XYZ will develop architectural blueprints for you, apply and pay for your building permit and begin the scheduling of the actual construction phases (Unless you will be dealing with a separate architect and contractor).
The sub-phases of Step 3:
1) Your house designer will draft the design agreement after confirming with the town that the project is possible to build.
(This is done to protect you, they should never cash your check unless they are certain the town will award you a building permit.

(No one wants to pay for architectural plans that cannot be used to build.)

a. Reasons your project may not be possible include: The addition or house is too close to a property line, wetlands prevent building, septic or well is too close, or height restrictions etc.

b. Your Design Build Firm should always speak with the town about all of your local guidelines, codes, and restrictions prior to cashing your check. This step is done before the design presentation phase to make sure the design reflects the actual possibility.
2) The design phase typically takes about two to three weeks, a good firm always keeps in constant contact with you, so that they are on the same page as the design matures into the final project. (Rather than them surprising you with a final design, they should work together with you so that you know exactly how they are progressing and
they should always ask for your input!

)

a. During our design process they should email 3D views and floor plans, so that they can capture your input as we go along.

b. To reduce your wait, they should begin the permit application process with your town hall once they have agreed on the size of the addition or new home and 90% of its design. They will then take the information about your project to the Zoning Department, so zoning can begin to go through their approval process.

c. By the time the plans are 100% complete, the zoning officals should have accepted the application and the completed plans go to the building department for their internal final approval process.
3) Once your design build firm has completed the architectural blueprints, you will be invited to their Design Center to view the 3D renderings and take a part of a unique virtual tour of the finalized design. (This gives you a final opportunity to make sure you are completely happy and comfortable with the design before construction begins.)
---