Step 4: Construction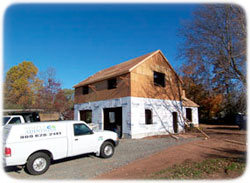 Once the plans have been completed and the permits have been approved, you will sign the actual construction contract with your Building Contractor or Design Build Firm. Their construction contract should be highly detailed, so you know exactly what you are getting and paying for, if it's not, ask them to make it detailed for you!
Every step of the construction process including the materials used, should be listed in the building contract. Your Design Build Firm should take pride in thier transparency, in our professional opinion, nothing should be left out of the contract.The contract should also feature the start date, the entire time frame for the project, a fully detailed payment schedule, and a list of project allowances.
1) Usually payment schedules are configured in a simple pay as you go fashion. Each time they are ready for a payment, they will have completed a substantial amount of work. The down payment is based on the figure needed to begin the initial stage of your project; it includes the material and labor costs.
2) The terms and conditions in the back of the contract should also be fair to both parties. The contract should clearly state that they never ask for the final payment until you express your complete satisfaction in writing.
3) Your Building Contractor or Design Build Firm should guarantee that the project cost will not change with the exception of 3 possible situations:
a. During excavation your contractor may encounter a utility pipe that they were not aware of. Keep in mind that they should always ask if you know of any underground utilities in the excavation area such as a sewer pipe, power line or an underground swimming pool wire before they dig. They should know that they always need to call your local building officials to ask them the same questions they asked you about the excavation area, this is practice is officially called "Call before you Dig". These situations rarely happen, because a good contractor researches the excavation area thoroughly; but sometimes there is no way to tell until you start digging. Note:"Call before you Dig", is a state run program that is designed to make contractors aware of any underground utilities that may be in the excavation area.
b. When your contractor starts building the addition and connecting it to an existing structure, they need to expose the framing of the existing house. On occasion they find rot or termite damage to the existing house where the addition connects. These types of issues usually need to be repaired to ensure the home addition will be built onto a solid structure.
c. You decide to change or add something in the middle of the project. For example you upgrade the flooring; this will obviously result in a higher cost of material than originally listed in the contract. Also keep in mind that if your new flooring upgrade requires more or less labor, that will also affect your labor cost.
If any of these situations occur, your Design Build Firm or Building Contractor should wait to make the repairs or changes until you receive a detailed explanation and sign an additional work authorization form. Simply put, if you follow our building process guide, there should be no surprise costs at the end of the project for you, because any additional work needs to be authorized and signed off by you.
Your Design Build Firm will prepare a construction schedule for you.This schedule can be highly detailed. It should lists the time frames for your project from start to finish. It also should list all of the individual phases and their time frames. In the construction schedule your responsibilities should be listed as well. Example: They should let you know the due dates for your material selections in advance. They can also give you a list of their preferred vendors where you can shop, but of course you can shop wherever you choose.
A good construction schedule with proper detial promotes a seamless project without delays. Your design build firm or building contractor should update your schedule, so you are continuously informed of your project status. Some firms will also send email updates or text messages with attached photos, so you know what is happening when you are at work or away.
---