Building Home Theater Rooms
In the past you had to go to a movie theater to experience amazing surround sound, seating for your family or your friends, and of course a large beautiful bright move screen.

Today you can have any type of home theater or entertainment room that you can dream of.
Home theaters are becoming a hot trend and many professionals are already skilled at appointing them with the right features to ensure that your movie going experience will be nothing short of blockbuster!

Adding a Home Theater
The most common areas used for home theaters are basements because of their great acoustic capabilities as well as their lack of windows. If you have a basement and you are just aching for a home theater, this will be the perfect solution for you. With the right plan, and the right money, you can be enjoying blockbusters at your home in just a few weeks.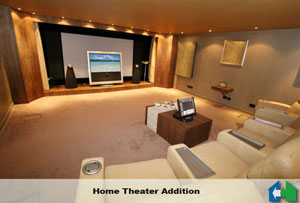 Another popular option is to actually add on a room addition and appoint it to be a home theater. With this option you are less limited with the spacial concerns of basements as well as the concerns of fighting the odors we normally find in rooms below ground. Remember everything is possible but nothing is free. So if you have a mold or water problem in your basement, it may actually be cheaper to add on a home addition theater room instead of remodeling your basement.

Finally before you call contractors as commit yourself to a particular project, you should plan out all the components that you plan to have. Are you also adding a wet bar, a snack stand, etc.

Once you have the costs of your AV components, and your other features, you will need to figure out your budget.


That's it. Once you know how much you're willing to invest in those items, calling a few contractors to get some proper estimates is your next logical step. Don't forget that we provide free estimates through professional contractors in your area.


Your personal movie theater is only a few steps away now!