Very often a homeowner outgrows their charming little house and before you know it, there's either a real-estate sign sitting in the front yard, or a contractors truck in their driveway.
House additions enable us to stay in our already adjusted to neighborhood and forgo on all the headaches and troubles associated with moving and relocation.
Building a house addition can pose it's own challenges, but at least you will not have to deal with new neighbors and moving, and to most of us, that is a big sigh of relief!
House Addition - is an extension of living space or an addition of convenience; such as a garage to keep your cars shielded from bad weather or an additional bathroom to reduce stress in th morning while everyone is getting ready for either school or work.
Since this website is the authority on House Additions, we thought we'll share with you the top reasons why people go through the trouble of building these projects.
Top 3 Reasons People Build House Additions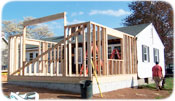 1. Growing families: Whether there are kids on the way, growing kids who need separate rooms, or in-laws who will be moving in.
2. Growing Needs: Garages for storage, larger kitchens for entertaining, to adding another level; we have the experience to transform your growing needs into reality.
3. Growing Income. Adding space adds value to your home. Also you can get a great deal because of today's low interest rates.
Do your needs fit into any of those three categories? If so, you might want to partake in our awesome automated contractor locating service. It provides you with the names of your best bets in your town. Think of it as a dummy proof way to choose a house addition contractor. To get started simply fill out the form below.
Visit our contact us page to send us your house addition questions.
---