We are some of the luckiest people who have lived so far. I say that because we're living in an age where most of us have the spare income to buy a gadget whenever we want. Whether we are upgrading our smartphones, buying something new to entertain us, or simply getting stuff to make life easier, most of us can't live without the Amazon's, BestBuy's, or NewEgg's of the world.
If you're anything like me, I'm sure you also bought things that didn't live up to their hype. We all been there before. Somewhere along my journey I got so fed up with misleading marketing, I became a full blown research-a-holic. And honestly, it has really paid off in terms of getting great products that just work.
Now I'm not going to lie to you and tell you that I can do my research in a brisk 30 minutes and get on with my day, nope that is not how it works. Gone are the days of mostly pure honest reviews, so for the past several years I've been digging deep, real deep into customer reviews to uncover the average user experience.
So the secret to buying great stuff is really no secret, it is just lots of OCD research on the most popular websites selling the gadget you're after. if you don't have the time, which most people don't these days, your best bet is to find an OCD researcher like myself who already did the agonizing work for you. Enjoy the list, and let me known what you think on my Facebook page.

Top 10 Gadgets You Won't Be Able To Live Without After Using Them
Black + Decker BDH2000PL Max Lithium Pivot Vacuum / Dustbuster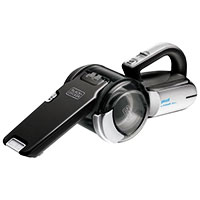 I purchased mine in December of 2014 and used this bad boy a lot! I used to own an old school Black & Decker Dustbuster which was great but the battery sucked and that made the product just okay.
This model features a very powerful fade free 20 volt lithium ion battery that just lasts and lasts. But the reason that battery is awesome is not just because of how long it lasts, but how long the vacuum provides full power suction with zero fade in performance until the very last minute. I believe I timed it at around 12 minutes of running non stop.
What To Love: Easy clean up after pets, kitty litter, dust bunnies, fur, dry spills in the kitchen, car vacuuming between seats thanks to the pivoting slender head, and any time you need a quick touch up vacuum. We also own a Dyson Ball which is fantastic, but I hate pulling it out and unraveling the 20' cord. This Black + Decker portable vacuum is one of my favorite gadgets around the house and most people that see it in action, end up buying one of their own. That's why I put it on my list of must have gadgets for the house.
Hamilton Beach 76607 Smooth Touch Can Opener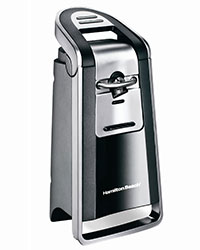 I bought mine in November of 2014, so the verdict is in. My wife and I love this thing! First of all, I've used many other brands and types and none of them are as easy, as clean, and as safe. This can opener cuts the can from the side, basically delaminating the top of the can from the can body. You can then put the top back on and put the canned good back in the fridge if you wanted to.
Before this can opener, our previous electric can opener would chew up the label on our tuna fish cans and create a very sharp jagged edged top. But it also was a pain in the ass to get started in the first place. I always hated it and couldn't believe there wasn't something better, until I found this one.
What To Love: Guaranteed you'll throw your other can openers into the garbage after opening your first can of anything. You'll be amazed the first time you use it because it won't even look like it opened the can, until you try lifting off the lid. That's the moment you'll realize the other electric can openers are horribly engineered, even the manual ones. You'll probably show it off to family and friends and again, they will jump on the band wagon and buy on too!
Aroma 20 Cup Rice Cooker and Food Steamer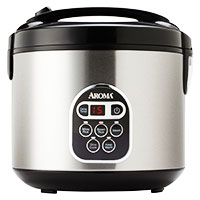 An electric rice cooker makes cooking rice easy and dummy proof. Basically your non cooking man (like I am) can wash some Basmatti Rice, throw it into the rice cooker with a table spoon of olive oil and in no time, you'll have some delicious rice, ready to eat, and cooked to pure perfection.
It's true, several times I prepped and cooked some white rice for before I went to pickup my wife from work. When she came home, she just stirred fried some vegetables, threw the rice into the stir fry pan and baked a few pieces of breaded tilapia. In less than an hour total, we were eating good nutritious food.
What To Love: A rice cooker is basically a major time saver. Once you use it to cook diner, you will never want to cook rice without it. No more trying to figure out how much water to add, or how long to cook it, just wash the rice, add water according to the quantity of rice and a tablespoon of olive oil, and soon you'll have delicious rice, ready to eat as is, or used in any of your favorite rice dishes.
First my mom witnessed the power of the Aroma rice cooker, so she bought one, then my sister bought one, and before you know it, everyone in my family that likes to eat rice owned a rice cooker. It all happened the same year I got married. Of course Asians swear by rice cookers, but since we're not Asian, we had no idea what we were missing in the kitchen until Kawshi (my wife) made cooking rice something even your grumpy old dad can do.
Samsung Galaxy Tab Pro - 10.1" - 16GB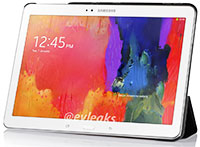 I got this baby in July of 2015, a few days prior to my birthday. I actually didn't want to get another tablet because several years ago, my wife bought me a brand new iPad 2 16GB. But unfortunately when iOS 8 came out, it pretty much rendered the iPad 2 useless. To my surprise even my wife agreed that we needed a new tablet, even though she paid $600 just a few short years ago.
So I used to be an Apple lover, until Apple made my iPad 2 unbearingly unusable. I felt betrayed by Apple so me wife knew that I was doing lot so research on a new tablet and I settled on the Samsung Galaxy Tab Pro. Well, from day one, I fell in love with tablet technology all over again. The screen is amazing with a resolution of 2560x1600. And the reason I love the Samsung more than the iPad is a laundry list.
(BTW: I'm not just Apple bashing, see for yourself by Googling "IOS update made my iPad useless.")
It's an Android device, so if an update screws it up in the future, I can always download dozens of custom versions and enjoy a whole new experience on the device. Apple actually limits which version of iOS they'll make available to their customers, which is why I couldn't downgrade my iPad 2 to iOS 7.
I'm not forced to run Apps that Apple has to approve of, meaning I can install software like Kodi which lets me watch Live TV, Movies, and pay channels instead of the paid services like Netflix, and Hulu. Basically, I bought an expensive portable computer and I can do with it what I please without having to answer to Apple or anyone else, and that's how I like my technology.
The camera on this badboy is amazing, although it is weird recording or taking photos on a tablet but what I found to happen is that something happens while I'm using the device, which makes it easy to capture on video or photo. For instance my cat pushing my wife because he's hungry.
Using more than 1 app at a time. Yes folks you can shop on Amazon and have your calculator app nearby to sum up your shopping spree. Or you can have Home Depot on one side of the screen and Lowes on the other to compare prices or products side by side. There's no limit to what you can do with this feature.
Bottom Line: When my wife bought me my first iPad 2 I was in love with the technology, but that was some expensive short lived love affair! I can't believe Apple screwed the millions of people who bought that device, hell it was $599! Now it just sits in the bottom of my media cabinet collecting dust.
The Samsung Galaxy Tab Pro got amazing reviews, but most importantly, it's fast, bright, has great battery life, and there's a huge community out there that will create software for the device long after Samsung gives up support. I like that a lot, especially after getting screwed by Apple.
Nikon Coolpix P900 Super Zoom Digital Camera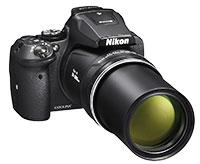 The other day I shot the super rare blood moon with my Canon Rebel T3i DSLR camera and was pretty proud of myself because the video did really well in a short period of time. I spent over $1,000 on the camera and accessories but didn't expect to get the results I did. Anyways a few days after I was research what types of lens I could buy for my Rebel and accidentally came up on a video of the Nikon Coolpix P900.
Well, let's just say that I was blown away how a point and shoot camera can out zoom my fancy shmancy DSLR and even worse, take better photos and videos of the moon, passing by planes, and basically anything really far away. I would have to spend thousands of dollars on a camera lens just to compete with this $599 camera.
What To Love: This camera is super impressive for just about anyone. It really doesn't matter what you're into: bird watching, paparazzi, spying on your neighbors, capturing sporting events, and shooting celestial objects. This camera is something even the biggest DSLR snobs secretly want, even if they can't get themselves to admit it to anyone. If you need a camera, do yourself a favor and check out the linked video below, then check out the amazing photos from customer reviews on Amazon. Trust me, it's worth looking at the video and pictures, even if you have absolutely no interest in cameras. It's just that impressive!
YouTube Video of Nikon P900 using 83x optical zoom

When my wife told me she wanted to buy a Dyson vacuum I protested and found several much cheaper variants instead. But my wife is persistent and managed to buy our DC25 Ball either on Black Friday or a Christmas sale and honestly I'm so glad she did!
I've used pretty much all types of vacuums, and most of them exhaust a disgusting dusty smell into the air during the process. Surprisingly the Dyson vacuum doesn't have this problem at all, and better yet, there's no expensive HEPA filter to replace or clumsy bags to change. It has two washable HEPA filters that do an excellent job of blocking out that nasty smell. Also I've seen a guy use a Laser Particle Scanner and he measured ZERO dust coming from the exhaust which is amazing!
https://www.youtube.com/watch?v=hd2G5sNSmSM
We bought our Dyson DC25 five years ago and the dam thing is just as powerful as day one. At first I thought this thing was going to break because of all the fancy mechanisms on the device, but 5 years of regular use has done nothing to its age. I have to admit, it's the best vacuum I have ever used and nothing really compares to it. I know that other companies are trying to copy the technology, but again, if you can try the Dyson in your house during the return period and test it out, chances are that you will not want to give it back to the store.
What To Love: Well it's a vacuum and boy does it suck. This thing has the perfect amount of suction, in upright mode or when you're using the hose attachment. Love it or hate it, you cannot dispute the raw power of this machine or how cleanly it does its job. It's a very well-engineered piece of technology that stands the test of time and changes the hearts of skeptics. All it takes is a few uses to get even the biggest skeptic (me) over the sticker shock. BY the way the ball technology makes vacuuming fun and easy.
Shark Lift Away Professional Steam Pocket Mop (S3901)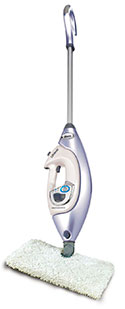 Since I was talking about Dyson competitors I remember that Shark makes a decent vacuum but what it does really well are steam mops. I originally bought the old school Shark Steam Mop and broke it because like many others, I never put a drop of distilled water into the thing. And unfortunately our water is not as clean as it should be, which causes buildup and corrosion of all types to eventually clog these magnificent machines.
Anyways, ever since I broke my original steam mop, I always wanted to get another one, and treat it the right way. So we just bought the Shark Lift Away Professional Steam Pocket Mop (dam that's a mouthful). What I love most about it is that Shark thought about all the ways people wanted to use steam technology to clean and gave us 3 specific settings and most impressively a detachable steam cleaner that you can use to clean countertops, ovens, sinks, toilets, showers, and even release wrinkles from clothes and curtains.
What To Love: No more wet nasty mops, harsh chemicals, or mop buckets. Simply fill the resivor with water, set your desired steam output and easily steam clean the dirt and grime from your wood, laminate, tile, or linoleum floors. Right now we have a kitchen that's scheduled for a full blown remodel, and the cream colored linoleum floor is constantly getting dirty. My wife and I for some reason avoided using the spray mop we have but for some strange reason, we both enjoy whipping out the Shark Pocket Mop and steaming off the grime and Lucky's food residue from the kitchen floor. If you never used any Shark Steam Mop, you really don't know how awesome it is. Again, try it out from your favorite retailer, even Amazon has a great return policy with free shipping back.
Cuisinart CPK-17 PerfecTemp 1.7-Liter Stainless Steel Cordless Electric Kettle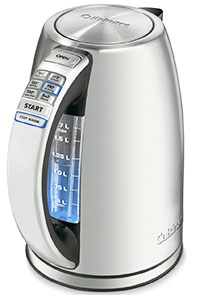 My wife and I love to drink some nice Lipton Tea with lemon with our dinner, but what we didn't like was waiting for our old school tea kettle to boil water on the stove. Well I don't know if you had the pleasure of using an electric tea kettle yet, but let me tell you, it is all that and a bag of chips.
The new electric kettles are very fast, so if you tend to wake up late for work, this thing can be a real time saver. But I have to warn you, when it comes to electric kettles, you get what you pay for. My mom is the perfect example of someone that rather buy cheap if there's no one there to stop her. I think she's on her 4th kettle now, they somehow don't last her a year. Hopefully she never reads this post J
I can vouch for the Cuisinart PerfecTemp Kettle myself, we have been using it multiple times a day for more than 1 year and it just works. Plus with it's very attractive stainless steel body, sexy blue light, and fancy array of buttons, it will also make a nice addition to your kitchen. My kitchen on the other hand is old and outdated, it's the only room we still have to update, besides my basement.
What To Love: This kettle was Oprah's favorite things for 2013. It has 6 temperature presets because the right temperature makes a huge difference for different types of teas. I used to think green teas were bitter, until I used the 175 degree setting on my Cuisinart Kettle, now I'm drinking this antioxidant rich brew more often.
Scosche Magnetic Window Mount for Smartphones, it really is good!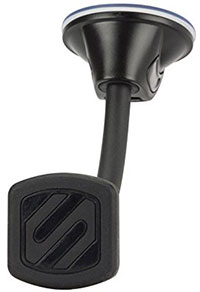 I have tried several cell phone holders in the past few year and they all had the same thing in common, they sucked! Finally, I found the Scosche Magnetic Window Mount and at first I thought I bought another dud.
First let me tell you how it works. It comes with an adjustable arm that mounts to something non porous like a window, moonroof, and maybe the woodgrain paneling in your car as long as it has a gloss y non porous surface. The other end has a 1.5" little surface with an "S" on it that's actually magnetic. Some of the new phones have metal cases, which will work perfectly with this. But for the rest of us, you have to use the provided thin metal plate that sticks on to either your cell phone body, or your cell phone case. I stuck the metal plate to the TPU portion on my Spigen Slim Armor Case for my Samsung Galaxy S4. Basically my case is two pieces, a soft rubber like material (that's what I stuck it to.) and a hard plastic shell.
At first I didn't think that the adhesive on the metal plate would be strong enough to bond with the thermoplastic urethane (TPU), but to my surprise it bonded really well. So, the day I got my smartphone holder I decided to mount it to my windshield and went to pickup my wife from work. During the drive I hit a bump and the mount fell off the window. That's about when my short lived disappointment set it, but I gave it another try and stuck it back on. You know what happened? Absolutely nothing! Because the Scosche Magnetic Smart Phone Holder has been working everyday, through all types of driving conditions for the past 1 1 ½ months. I am so happy that I found this holder, because it's so easy to use and it works fantastic. I guess the first time, my window was not clean enough, so the suction broke when I hit the pothole. Buy this thing if you need one, trust me, you're going to love it!
Amazon Fire TV Stick with Kodi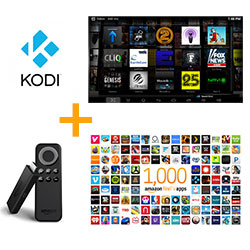 I'm sure most of you have heard of the Amazon Fire Stick which is the size of a typical USB stick but plugs into the HDMI pot on the back of your TV instead. I have a 55" Samsung Smart TV but honestly, the Fire Stick is a lot faster and easier to use than what Samsung came up with. I would bet that the processor on the Fire Stick is faster, which is why I side loaded a very awesome app called KODI onto mine.
So What So Special About Kodi?
Think of Kodi (formerly known as XBMX) as a cord cutting media player for / from the future. It allows you to watch movies, TV shows, play music, Karaoke, podcasts, and so much more. It's even capable of giving you access to TV and movies for FREE! Yes, I did say free. This is not a gimmick either, because I just received my Amazon Fire Stick loaded with Kodi and I can honestly say that I've watched plenty of movies and TV shows on the device and didn't have to pay one red cent.
Sounds Great, But Also Like It Might Be Complicated
Well, I thought so too, but if you go on Youtube and type in free TV using Kodi, you'll find all the help you could ever want in setting up your Kodi on an Amazon Fire TV Stick.
I am writing a complete how-to guide right now, so follow me on Twitter to get an update when I'm done with it.
---
More Awesome Shopping Guides You Can't Miss
Affordable and Awesome Gifts for Men
Top 10 Home Automation Gadgets to Buy For Christmas & Birthday Gifts
Christmas Gift Guide for Men: Manly Gifts for the Guys in Your Life
---
The Gadgets, Tools, & Gizmos That Didn't Make The Grade, But Worth Looking Into
Here are a few other gadgets that didn't make the list, but still really great gift ideas for birthdays, holidays, graduation gifts,
FitBit Wireless Activity Tracker
Okay we all know most smartphone these days can track our walking and heartbeat but let's face it, do we really want to devote our precious smartphone battery time to tracking our fitness? I know I don't! That's where the FitBit Wireless Activity Tracker comes in.
My Most
Annoying Shopping Re
turns
A $1000 16' Garage Door from Lowes that was special ordered. Why? Ugly in real life.
A $800 Whirlpool Bathtub from Home Depot. Why? I decided against in favor of a better model.
Almost $980 of Plumbing Parts from Home Depot. Why? As an amateur plumber I bought a lot more than needed, so I wouldn't run out of fittings or pipes in the middle of a job.
A $500 Entry Door from Home Depot. Why? It was warped and impossible to install correctly. Luckily my uncle put a level against the slab, which revealed a 1.5" bow! That was something I didn't expect.
My Most Annoying Home Depot Return
Drones
Drones are hot right now, but flying one outside of your yard can get you in trouble. Did you know you that you won't be able to take full advanaage of the altitude or range, unless you're willing to break the law?
Rigid ShopVac
They come in many sizes and trust me, everyone sooner or later wishes they had one. I love mine and even use it to blow the dirt from my garage like a leaf blower.
GoPro Hero 3+
My wife bought me a GoPro recently because I like to tackle remodeling projects around the house. I practically rebuilt half of my house with my bare hands in my free time. From changing windows, doors, gutting and renovating a bathroom, and everything in between, I could have captured it on my GoPro. Howeverr, some people who will remain nameless, rushed me to finish my house so rapidly, that I only recorded half the footage I could have. Anyways, a GoPro allows you to record really good video while your hands are doing something completely different.
Favoring Returns Over Owning Mistakes: The Lesser Evil
I'm sure we're all guilty of buying cheap gadgets or knockoffs at least once in our life. I remember when I bought a Blackberry Storm when the iPhone 3GS was out, just because I didn't want to join the pop culture bandwagon. Well, you know what happened? After weeks of struggling with the butt dialing, poor excuse for a smartphone with the worst app store ever, I returned it back to AT&T and bought the iPhone instead; and boy was I happy!
That my friends is the best case scenario when you immediately find out that you just bought something really regretful. You simply throw it into the product packaging the best you can and get your money back before the return policy expires. And by the way, feel free to practice this tradition with any of the products below, if for some reason you don't think like I do that God commissioned the creation himself.