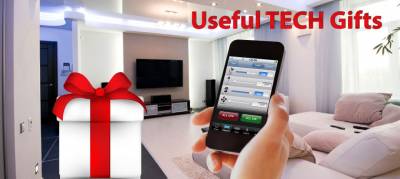 The holidays are right around the corner, and if you're like most Americans, you've probably started – or at least thought about – your holiday gift shopping already. It can be difficult sometimes to put together your holiday shopping list – it's not easy to figure out what to give your spouse, parents, in-laws, etc.! And then to think that, after you've spent time and money thinking of and purchasing a gift, sometimes it might never be used. Or, worse, it could one day be re-gifted (we've all done it!). So this year, why not give your loved ones gifts that they'll actually use?
Home automation gadgets are the answer. In this age of ever-evolving technology, we live in a world that is constantly connected and plugged in. Home automation products take the latest and greatest technology and connect your home directly to your favorite devices, like your new smart phone or tablet, making your life much easier (and much more high-tech).
Does your father-in-law always forget to turn on the lawn sprinklers, leaving his grass brown all spring? There's a home automation gadget for that.
Does your mother worry that she forgot to turn on the alarm after leaving? There's a gadget for that.
Do you and your spouse want to enjoy high-quality sound when listening to your favorite jams or watching your favorite TV shows? There's a home automation gadget for that.
We've done all the work for you with our list of the Top 10 Home Automation Gadgets to Buy for Christmas Gifts. Take a look and you're sure to find something for all the special people in your life … and don't forget to treat yourself, too!
1. Self Learning Thermostats
With devices such as the Nest thermostat, you can keep your home at the perfect temperature year round. Connected thermostats allow you to adjust the temperature in any part of your house from anywhere – imagine turning up the heat a bit before you leave the office during a particularly cold, winter day. Smart thermostats can also learn your patterns and schedules, programming themselves to mimic what you've done before. In the end, these devices can really help you save money on home energy bills. We like the Nest thermostat, found here.
2. Wireless Lighting
Automating your home's lights is sure to save you money in the long run. Forget to turn off the kitchen light before leaving for work? No problem, with automated lights, you can control everything from your smart phone. Another great benefit of automated lights is the ability to control the lights while you are away on vacation, giving off a lived-in appearance which helps to increase your home's security while you are away. Have some fun with automated lights using the Philips Hue Smart Lighting Starter kit, which allows you to get creative by controlling up to 50 lights at a time, creating lighting scenes based on your favorite photos or even programming the lights to flicker in the morning instead of using a traditional alarm. Check out Philips Wireless Lighting.
3. Home Audio Sound Systems
Easily share and control music throughout your home with a home audio system, or, opt for a sound system that connects to your television for a movie theater-like watching experience. There are many outstanding options on the market right now, most notable Bose and Sonos. We're loving the Sonos smart system of HiFi wireless speakers found here.
4. Wireless Video Streaming
These days, cable just isn't cutting it. Whether you're cancelling cable to minimize your bills, or if you just want more television and movie options in your life, you most likely have used some type of streaming video service. Now live video streaming to your television couldn't get any easier – with Google's simple and extremely affordable Chromecast, you can stream anything from your laptop straight to your TV.

5. Automated Vacuum
Do you know someone who despises household chores? An automated vacuum is the perfect gift for them. You can schedule and program these cool gadgets to clean different types of floors, including wood, tile, carpet and vinyl. These are a great gift for those with pets, or anyone who suffers from allergies! Check out a really high rated robotic vacuum now.
6. Automated Coffee Pots
This is a great gift for the caffeine fiend in your life. Any coffee-lover will be ecstatic to receive an automated coffee pot that can be programmed to start brewing their coffee before they even wake up. This affordable coffee maker from the classic Mr. Coffee will let you program it to brew a pot of coffee in advance, and it comes with a convenient auto shutoff feature that turns the warming plate off after 1 hour. http://www.amazon.com/Mr-Coffee-4-Cup-Programmable-Coffeemaker/dp/B0008JIW8U
7. Home Automation Door Locks
Automated door locksallow you to access your locks remotely, giving you the ability to check and see which doors are locked or unlocked, and letting you lock the door remotely. Some automated door locks will let you assign unique codes to each person in your household, so you can get notifications when a certain user unlocks a certain door. http://www.amazon.com/dp/B004F1F1PY?pf_rd_p=1633054382&pf_rd_s=center-2&pf_rd_t=1401&pf_rd_i=1001373411&pf_rd_m=ATVPDKIKX0DER&pf_rd_r=1E7WAZEDM4EK2X598F9D
8. Sprinkler Controller
Automated sprinklers make taking care of your yard a breeze. Never forget to water the lawn again and be the envy of the neighborhood withthe Lono sprinkler system. This allows you to easily control your sprinklers with your smart phone, so you don't even have to leave the couch to do your yard work. https://lono.io/
9. Turn anything into a connected device
This has to be one of our all-time favorites: the Belkin WeMo home automation products allows you to connect your existing electronics to your Wi-Fi network and control them using your cell phone. The WeMo product line also includes devices that connect your power and water to your smart phone – talk about advanced technology! With affordable price points, these products are a steal and are a great gift for anyone on your list! http://www.belkin.com/us/Products/home-automation/c/wemo-home-automation/
10. One-Touch Home Automation Controller
This is the perfect solution for someone who doesn't want a bunch of different gadgets, but would prefer to keep everything all in one place, as it allows users to unify and automate a variety of smart devices under one application. Unlike other all-in-one home automation controllers, the Relvov app and hub doesn't require an Ethernet cable, but instead only needs a wireless connection. http://www.amazon.com/dp/B00EWJQ9PK?pf_rd_p=1715802102&pf_rd_s=center-2&pf_rd_t=1401&pf_rd_i=398550782&pf_rd_m=ATVPDKIKX0DER&pf_rd_r=024GBVTN7QA7BYQ8CBRB
---
More Awesome Shopping Guides You Can't Miss
Top 10 Gadgets for The House Everyone Needs
Affordable and Awesome Gifts for Men
Christmas Gift Guide for Men: Manly Gifts for the Guys in Your Life