The Essentials of Fall Landscaping and Lawn Maintenance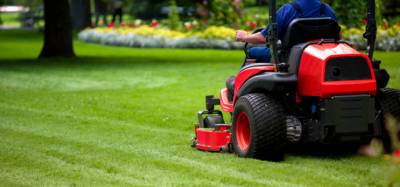 Fall is one of the best times of the year to spruce up your lawn. Temperatures are dropping, but it's not too cold – the perfect weather to work outdoors! Plus, the beautiful changing leaves are easy on the eyes while you're out there working away.
As experts in home and landscape maintenance, we've gathered several fall lawn care tips over the years, which we are thrilled to share with you now:
Adjust the height of your lawn mower: Many people raise the height of their mowers in the summer, so now in the fall it's time to lower those blades back to a normal mowing level. Around 2 inches tall is your best bet for most types of grass. Lowering the mowing height will cut your grass a bit shorter, a necessity to prevent grass from matting down under fallen leaves or snow. Read my best self propelled lawn mower guide if you need to buy one.
Feed and water your lawn: Lawns respond best to feeding during the fall and they'll look even better in the spring next year if you do this now. Water your lawn once or twice per week, preferably in the early morning.
Lay sod or repair dead patches of grass: Moderate temperatures and more moisture in the fall will benefit sod and seedlings.
Aerate the soil: Aerating your lawn helps to improve drainage and reduce thatch. Try the Yard Butler Aerator, it has great customer feedback on Amazon.
Clean up leaves: Fallen leaves, in excess, can wreak havoc on your yard. Use a rake or leaf-blower to remove leaves from your lawn at least once per week. Find the perfect leaf-blower for you here: Leaf Blower Buying Guide
Apply a top dressing: After raking and aerating the lawn, apply a top dressing into the aerated holes.
Get rid of weeds: Apply an herbicide to weeds in the fall, so they won't come back to bite you in the spring.
Trim dead branches: Be sure to remove dead branches from trees, especially those in close proximity to your house, to prevent the branches from falling and causing damage in a storm.
Happy fall landscaping!