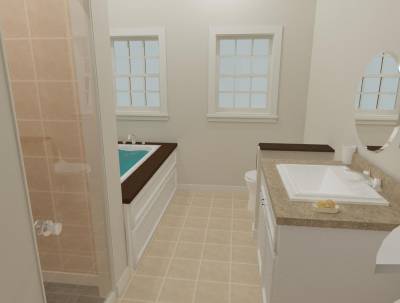 Updating and renovating a home can be a very expensive and time consuming project and some rooms of the home outweigh others, especially in terms of cost. For instance, both kitchen and bathroom renovations can be daunting to amateurs and professionals alike. More often than not, homeowners find themselves rolling in debt after renovations when a room like the kitchen or bathroom is included – but that doesn't need to be the case.
For now, we're going to focus on the bathroom – after all, the bathroom is one room that everyone has to use, and it should be a relaxing environment that both looks and feels nice.
First, it's important to realize there are several different paths to take when renovating a bathroom. Depending on your skillset and budget, you could go for simple aesthetic updates or a complete overhaul. For our purposes, we're focusing on updating a bathroom without breaking the bank. After all, money can be tight in this economy, but that doesn't mean that it's impossible to revive an old, drab bathroom.
To get started, let's look at bathroom updates that do break the bank:
Rearranging fixtures (moving a toilet, sink, tub, etc.)
Redesigning the plumbing and electrical
In most cases, the layout of a bathroom can be worked into your renovation plans without having to change where fixtures are located. Instead of moving the toilet, sink or tub, think about how you can work with the space that you do have. However, if you have plumping and/or electrical issues, it's a totally different story. These types of upgrades can be costly, and we recommend that they are completed by a professional. If you are on a budget you do need to fix up the plumbing or electrical, focus on that first. Once the bigger issues are resolved, move on to the design and décor of the bathroom at a later date, so you're not shelling out too much cash at once.
Assuming you don't need to make any plumbing or electrical updates, there are endless budget-friendly updates you can do to transform your bathroom.
Here are our top tips for updating a bathroom on a budget:
Paint the walls and buy a new shower curtain, new window curtains, a matching bathroom mat and additional bathroom accessories. A fresh coat of paint can go a long way, and it will be great inspiration for all of your bathroom accessories. For a more modern look, try out a two-tone paint job on the walls. Be sure to really get into the nitty gritty and scrub all the nooks and crannies before painting.
Paint your cabinets. Paint will often be the cheapest way to update any room, and it's not exclusive to walls!
Paint worn out and stained tubs with special bath tub paint, like this one available on Amazon: Rust-Oleum 7860519 Tub And Tile Refinishing 2-Part Kit, White

Purchase new hardware for the sink, toilet and tub, or refinish old ones – brass or gold faucets are dated, but it's easy to update those with a nice metallic black paint or a glaze.
Install new lighting over the vanity and in the ceiling. Try to avoid fluorescent lights, as they can be very harsh. You'll want to go for softer, more natural lighting in the bathroom.
Hang a new mirror at the vanity or above the sink. Look for one with a unique frame for a stylish look, or purchase a plain mirror and find a frame separately – frames often pop up at yard sales or discount home goods stores for very good prices.
Install new tile on the floor and/or on the walls of the shower or tub.
Swap out the vent for a quieter version – no one likes a noisy fan.
Use stackable shelves and drawers as an inexpensive storage solution to help clear out clutter.
What are your top tips for refinishing a bathroom on a budget? Tell me in the comments or find me on social media!