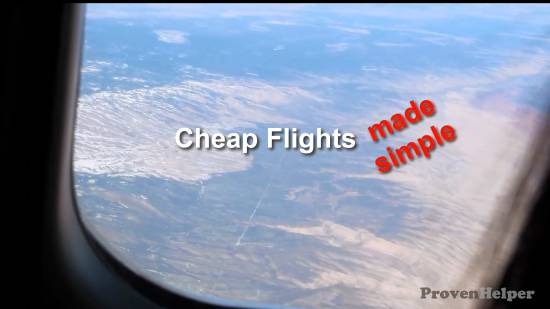 Recently I discovered a simple way of finding cheap flights using Google Flights , when I was looking for cheap airfare for my mother-in-laws first visit from Sri Lanka. Since Google doesn't advertise their cheap flights search engine, no one really uses it, and it seems to be better than every other option out there.
Finding Cheap Flights Just Got Easier
I like to travel whenever I get a chance, and flying is the best way to leave your worries behind in one state while you let yourself go in another. I'm from Connecticut, so from here I've flown to Texas, Florida, California, Aruba, North Carolina, and the Caribbean several times. Almost every-time I used one of those cheap tickets sites like Travelocity, Expedia, or Priceline to help me get the best deal on airfare for my trip.But that was before I discovered Google Flights, which is a tool that makes the process of searching for prices or finding the best date to fly on easier than everyone else. After using it once, I was sold, and that's why I just had to write about it.
Why You Should Book Your Trip Using Google Flights
Google Flights is super easy to use, in fact it is easier to use than Expedia, Priceline and Travelocity if you ask me or my wife. But what I like most about the tool are all the options it offers for searching and sorting through airfare deals. Even if you're not into trying out all the bells and whistles, you'll notice that as soon as you fill in your departure and arrival city, Google will show your their Best Flights list. This list is compiled by airfare cost, trip length, layovers, and of course by the data Google has from millions of users.
To access Google Flights just fire up Google and type "Flights"
You will immediately see a box on top of all your search results that allows you to input your departing city and destination city. You can also use airport codes if you know them, but I find it easier to just type any part of the airport name into those boxes. For example, my mother-in-law lives in Sri Lanka, so I start typing Colombo until the instant search function displays Colombo Sri Lanka Airport at which point I just click on that name to set the starting point. Next I select our local airport which is Bradley International Airport here in Connecticut.
Once you have both cities or airports selected you click next. Now you'll be on the main outbound flight screen where you can already view flights. What I like to do next is to hit the starting date box. This will launch a calendar and soon the flight prices will begin populating for each day on the calendar. Below the calendar you will find a small little bar graph that corresponds to the cost of the ticket. I love the bar graph because it allows you to quickly notice when the cheapest airfare can be purchased.
Once you set your start date using the calendar, you will do the same for your return flight date and again you might have to wait while all the airlines and flight costs load onto the calendar screen.
Quick Tip: Hover your mouse pointer over the bar graph lines underneath the calendar to see individual pricing information ona particular date. You can also expand the bar graph by clicking on the Expand Graph link below it.
A Better Way to Search for Cheap Flights
Google continues to add new features to its airfare search engine, my favorite of these new options is the Flexible Dates Tool. You'll see it right next to the word Calendar after you have selected a departure date. Click on the tool to block out all the expensive flights and focus in visually just on the best deals for that month.
If you like this article, share it socially, that's how I know I should make more like this.
Video Tutorial on Finding a Cheap Airfare Using Google Flights
I created a short little video tutorial on how I used Google Flights to plan a trip, check it out here.
Disclaimer:
Google likes to quit projects that don't get off the ground, so please check out the tool and share a link to this article or my YouTube video to get the word out. I only used the tool a few times, and I love it so much, that I really don't want to see Google drop it.