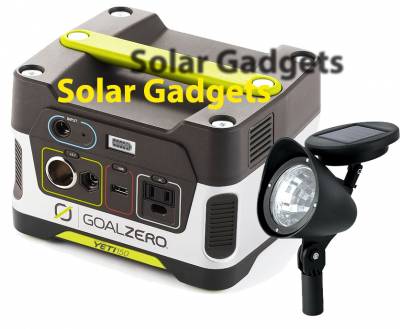 Sunlight is the most renewable source of power that humans can harness, which makes solar-powered gadgets not only very environmentally friendly, but budget-friendly as well. Imagine how your electric bill will decrease the more you use solar-powered products.
As the owner of a new home myself, I know what it's like moving into and outfitting an entirely new space. Not only do you have to worry about designing and furnishing each room inside the house, you also have to worry about things like landscaping and preparing emergency kits in case the power goes out or some other emergency occurs.
As I'm doing this for myself, I've been thinking a lot about using solar-powered gadgets wherever I can inside and outside the house. Solar power is so versatile and can be used in endless ways, making my search for the Top 10 Solar Gadgets something of a challenge. But I've done the work for you, and compiled a list of the Top 10 Solar Gadgets Every Homeowner Should Buy, along with a selection of products you can easily purchase with the click of a mouse:

Solar-powered motion sensor LED light: First, we'll start outside the home. Solar-powered motion sensor LED lights are a must. This LED Wireless Solar Powered Motion Sensor Light by Frostfire is budget-friendly, waterproof and heatproof. Since it's a solar gadget, there are no batteries or cables required!

Solar deck post lights: A backyard deck is often the hub of social gatherings in warmer weather. This set of four deck posts with a bronze finish is stylish and will be a great finishing touch to any outdoor party space.

Solar landscape spotlight: You can't beat a deal like this 2-pack of LED spot lights which provide maintenance-free and worry-free lighting in your yard.


Solar walkway path lights: If you have a long driveway or walkway leading up to your front door, you probably know that sometimes it's not very fun to be walking in the dark. Use solar walkway lights to light up the path for yourself and for guests.


Solar-powered Sun Table: If you like to sit outside and enjoy the beautiful weather while checking emails or writing up a proposal, you will be especially interested in this gadget: a solar-powered sun table. While it's on the pricey side, it's a very innovative product that would be a nice addition to an outdoors space, especially if you work from home often.

Solar attic exhaust fan: Now it's time to move inside the house with a solar attic fan. This awesome attic fan comes with a 25-year warranty and an adjustable 10-watt solar panel that is pre-assembled and ready to install.


Solar emergency radio: Now it's time to think about putting together an emergency kit in case your power goes. The first step is an emergency radio – why not a solar-powered emergency radio? This way you won't even need to think about batteries. This one is an all-in-one solution: a weather radio with Bluetooth, LED flashlight, AC power adapter, rechargeable battery and a USB cell phone charger:


Solar generator: It's always a good idea to consider a generator, even a small one, when putting together an emergency kit. This solar generator is ideal for emergencies and for camping or outdoor activities that require power.

Solar powered batteries: A set of solar-charged batteries are always a good idea to keep on hand. These rechargeable AA batteries are more rugged than other batteries, lasting longer.


Solar cell phone charger: And finally, a solar charger is the perfect small, budget-friendly solar-powered gadget to consider adding to your collection.