Step 2: Design Presentation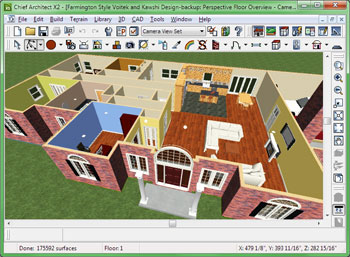 During the design presentation phase you will meet with your architect or house designer at their office to view different design concepts live on a computer. Whether the project is a home addition or a new home, you will receive a complimentary tour of your project using state of the art 3D architectural software. This service is usually free to you as long as you are a qualified customer. Different companies have their own criteria to qualify you for a free design presentation. The key qualification tool will be your budget.
You will be able to take a virtual tour of the inside of the existing home as well as see the exterior. The design presentation will give you a photorealistic example of what your new home will look like, once the last contractor leaves your property (Trust us, that's a moment that you'll remember forever).

House designers need an accurate budget from you, so that they can design a project that will fit within your financial limits. Remember to check your finances first, because if you cause your architect to redesign your entire project after you found out you cannot afford what they spent time designing for you, you may have to pay additional design costs to proceed with the new design that does fit your budget.
House designers and architects are skilled at making your desires appear easy to draw on a computer, but their time is very valuable so make sure you know exactly what you want, before you commission one. The majority of house designers and architects that you can find through our Contractor Finding Tool (fill out the form below), do offer Free Design Consultations.
If you have to pay for your design consultation, this can cost you anywhere from several hundred dollars from a very low level design, to tens of thousands of dollars for a photorealistic design that will blow your socks off.
It's a little known fact that getting a free design consultation is like saving yourself $5,000 in most cases. So take our advice, plan everything as well as you can, set a realistic budget, and find a contractor using our site that can get you your one time only free design consultation; you'll thank us later.
The designers will use your budget as the basis for creating the conceptual designs. As long as the budget allows for it, all the features and amenities you asked for will be included in the design. A completed design is printed on blueprint paper, because it will include: all of the 3D renderings, floor plans, detailed description of the work, and the total price to build your project.

Allowances for all fixtures such as: sinks, tubs, toilets, and cabinets will also be included in the print out. During the design presentation, you can ask any questions based on your project, you can also ask to view their extensive photo library to see how each phase of construction will be handled. The design presentation is also a good time to ask to see their construction contracts, payment schedules, & warranties, etc.
---
Use the form below to get yourself a free design consultation for room additions and major remodels.