Would You Like To Build This In law Apartment Onto Your House & Save on Design Fees?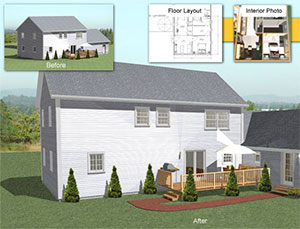 Move-in Ready:  

3 Months

Master Bedroom:  

11' x 12'

Master Bath:  

11' x 6'

Kitchenette:  

8' x 13'

Living Room:  

12' x 12'

Pantry:  

3' x 6'

Laundry:  

3' x 6'

Size:  

600 

sq/ft
An Exceptional and Practical 24' x 25' In-law Addition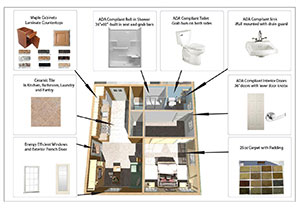 This has to be my favorite in law apartment design from my award winning menu of home addition plans. As the designer I was hoping to draft a floor plan that most people would be happy with, even if they didn't take the option to customize the design prior to construction. I also asked my parents (Baby Boomers) what they thought of the room sizes and the original layout I came up with. They made some suggestions, and today I'm proud to say that my loving parents were the inspiration for the inclusion of a pantry and a laundry room. 
My final design is by all accounts a fully functional house that is ready for you to enjoy soon after you answer a few questions below. Did I forget to mention that the addition builders working with my site can wave or reduce the design consultation fee? As someone that personally built a lot of additions, I can tell you that a house designer wastes a lot of billable time coming up with ideas for your project. If you give them detailed drawings from my website, that is going to save them a bunch of time and you a bunch of money!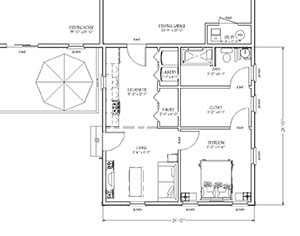 Full Disclosure: I get a tiny $12 referral fee if you take advantage of my free contractor finder below. Just remember that you're not obligated to pick any of the pre-screened contractors from the service.I like the service and keep it on my site because I was on their list of professionals during my addition building career. Things like this enable me to keep expanding the website and producing more addition designs.
Hey want to give someone a break on design fees by sharing my site with them? 
Accessible Design Approved In Law Apartment

This In Law home extension was designed with ADA requirements in mind because we tend to want things to get easier as we get older. The price to build this project will decrease if you remove some of the ADA features. Remember that it's always cheaper to plan for things before you build it, remodeling after it's built is always going to be more expensive. 
In law Apartment Features 
Living room, a large bedroom, a walk-in closet, a full bathroom, kitchenette, food pantry, and a laundry area. We literally have thought of everything. Check out the interior rendering and blueprints for this in-law apartment by clicking the photos to truly appreciate it. You will absolutely love this floor layout, it is very well thought out. 
This In-law Apartment Addition has everything you need, without sacrificing on proper room sizes
This in-law addition was estimated to be built on top of a crawl space foundation and baseboard heating through out. If your existing home features an
HVAC system, the cost to build this house extension will be slightly different. Check out one of the first in-law apartment projects I built.  
Room Details for This In Law Apartment
Master Bedroom

Size: 11' x 12'

Walk-in Closet: 11' x 6'

Flooring: Carpet

Doors: 2

Windows: 3

Living Room

Size: 12' x 12'

Flooring: Carpet

Doors: 2

Windows: 1

Features: Open Floor Plan

Master  Bathroom (ADA Ready)

Size: 11' x 6'

Flooring: Ceramic Tile

Doors: 1

Windows: 1

Features: ADA Roll-in Shower, ADA Sink, ADA Toilet, ADA Door Knobs
This In-Law Addition Has Been Estimated At $89,000.
Use the form below to find a great addition builder who has experience building In-law Apartments.