Planning a room addition
is just like any other remodeling project.it requires methodical planning and plenty of research to get the most bang for your buck.
Between hiring a contractor, designer and architect, it can easily get overwhelming quickly.
By using this guide to plan a room addition, you can be better prepared for the coming tsunami and protect yourself from getting in over your head.

Budget

The most important and the most ruined part of any room addition is the budget. Accounting for plans for the addition, permits, bonds and initial deposits are all a must have and often get factored out of building budgets. With a construction budget, it's often the little things that kill. Minor costs soon multiply to major costs and before you know it, your budget is blown. Account for additional building costs by adding a 20 percent increase to your overall budget to help soften the blow of overspending. It's also a good idea to get a cost breakdown list of materials and labor costs from any contractors to help define your budget more accurately.

Finding the Right Builder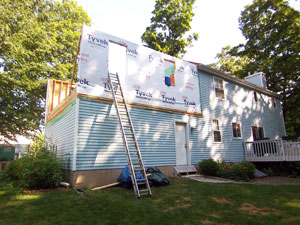 Because your room addition costs are often more than you'd like to spend, it's an investment that will last for years to come. That's why hiring the perfect building contractor to get the most out of your room addition is in your best interests. Finding one out of the many builders in your area can be tough, but with a little research you can get the best building company for the job. Are they licensed and insured? A quick call to the local building department can get you started on the right track.

Hiring a Designer

Finding the right design for your home can easily be done when you hire a designer. While hiring a designer isn't for everyone, they are often used in room additions and smaller renovations to match the existing home. Since designers don't need licenses to operate, it can be tough to get a qualified designer. Hiring a designer that has a college degree, a great portfolio and a long list of happy past customers is a sure fire bet you'll get a room addition design you'll love for years to come.

Addition Blueprints

Whether you're working from a cocktail napkin or a builders room addition drawings, certified blueprints are a must have. Not only does it help you create a water tight budget, it also ensures your room addition is built up to state and local standards. Without a certified and engineer sealed blueprint, your project can't get the necessary permits required to begin the project. That's why many people opt out to buy blueprints directly from a local architect. This way, building inspectors are familiar with their work and can make cutting the red tape much easier.


Financing Additions

Your room addition needs money to get off of the ground. Securing the right financing is the first and foremost step in planning for a room addition. Finances like bank loans typically require a banking inspector to verify certain phases of the room addition are completed before releasing any payments. This often requires you to find another way to pay for the project while you're waiting for the loan to clear, sometimes stalling the project in the process. Using cash reserves are ok; just make sure you've got enough back up money until all of the loans clear and the room addition is complete.
---