Have you noticed that the media is constantly doing stories on homeowners who were defrauded by unscrupulous contractors?
I think we all have, today we want to share with you what happened to John from Shelton CT.
At Simply Additions we are on your side, and we want you to be armed with the knowledge needed to accomplish your home extension projects without having a heart attack in the process.
Often homeowners share their remodeling experiences with us. Many of these experiences involve the use of the famous "Low Balling Technique". This scheme is geared to persuade you into signing a contract with someone who verbally guarantees that he or she will deliver the same product as a competitor, but at a much lower cost. Doesn't that sound too good to be true?
Shortly after the project starts, the deceptive low balling contractor halts the project and requests more money in order to continue building the room addition. Locked in a contract with their home in pieces and hefty down-payments squandered, homeowners are forced to comply.
Unfortunately, this happens all the time, while causing reputable remodeling companies to lose revenue, and homeowners overpay thousands to tens of thousands more for home addition projects pushed by shady Joes and not the Pros..
Contractor Ripoff Story [New Haven County - CT]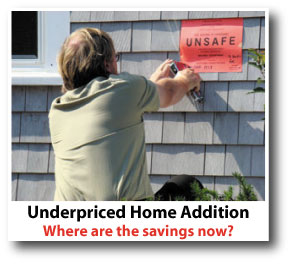 In this particular situation, the consumers name is John. He lives in a strangely converted two story ranch in Shelton Connecticut. After talking to John for 20 minutes, our project manager discovered that one year ago John hired a contractor to add a two-story ranch addition onto his home. Unfortunately, John did not do any background checks on the chosen contractor, even though John was spending $115,000.00 (His project should have been accurately priced around $135,000.00).
The contractor who will remain nameless, started the addition for John with a one page contract, a simple hand drawing, and no building permit! Apparently the contractor convinced John that permits & blueprints were not necessary, because they would only increase the cost. The shady contractor forgot to mention that it would also protect John from his ridiculous blunders and inexperience. John signed with the contractor because he thought he was saving $20,000.00; in reality he lost over $100,000.00 to the contractor, his good credit rating, and possibly his house, by the time this article hits the internet!
Adding a second story addition to a home like John's would take a proper contractor 3 to 4 months. John's contractor on the other hand took one year! But that is far from the worst news. John did receive a two story addition, and he also received an official letter from the town of Shelton stating that within 3 months he must repair or move out of his house, because it has been DEEMED UNSAFE due to the poor construction that was performed on it.
John's new plan was to pay another 100+ grand to fix his home, while he pursues a lawsuit, so that he can get his $115,000.00 back! The original contractor fled to Florida and John found out a little too late, that there is a list of complaints and lawsuits already filed against his under-priced contractor. John never followed up with us, and we didn't want to pry into his life. The moral of the story is to educate yourself by using our website prior to any contractor hiring. You can also bypass the majority of hassles by using our automated contractor locating service, by filling out the form at the bottom of this page. We find reputable construction firms that know how to build home additions.


So what should you do to prevent yourself from The Dangers of a Cheap Home Addition Estimate?

This story is just one of many that we hear throughout the year. We are a website committed to helping homeowners make wise buying decisions; in fact, one of the most innovative and respected in our industry. Part of our job is to help consumers make proper buying decisions. Our website is filled with tools and information for homeowners who want to make the right choice the 1st time, and
YES FOLKS by choosing Simply Additions to help you, you are choosing a website that is known to get the job done right. Also, someone by the name of Richard Blumenthal (State Attorney General) supports our commitment to consumer education,ever hear of him and his connection to lawsuits against shady contractors?
This article has been written to inform remodeling consumers of the common problems faced by homeowners who made the mistake of hiring a contractor based primarily on price alone. When hiring a contractor to build an addition, you are trusting them to know the engineering and structural loads of beams and materials. You and your families safety truly depends on their knowledge of home addition building
.
Choose a Proven Professional to Save Money, and Stress