A modular addition is an elongated box or "module" that is transported to the building site, set into place and assembled to create an "instant" finished addition to the existing home.
Every material and design feature that can be found in a conventionally built home addition is used in a modular homes construction.
Drywall, electrical wiring, plumbing, etc. all conform to the same building standards of a conventionally built structure.
So what makes a modular home addition different from a conventionally built home addition? It's not how it's made or how it's assembled, but rather where it's assembled inside a state of the art modern factory.

Factory Quality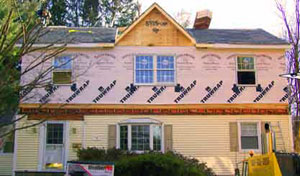 A factory built home is not a new idea. In fact, they've been building factory manufactured homes in America since the early 1800's. Even Henry Ford and Thomas Edison had modular homes shipped from Sears for their summer homes in Florida. With a state of the art factory, production methods are fine tuned. Efficient material storage methods create very high standards for quality control, ensuring that only the best of the best materials make it to the production line. The overall efficiency of the factory home decreases costs while raising building standards making a factory built modular home addition one of the best built homes in the world.

Even conventional stick-built home additions are using a large number of factory-built components and building methods to build a room addition. Manufactured trusses, factory produced floor joists and prehung doors are all shipped to the site prebuilt and ready to install. Building contractors and other home subcontractors are increasingly employing factory production materials and techniques to all facets of home additions.

Factory Built Advantages

Many people assume the main attraction to building a modular home addition is the price. It's true they are cheaper to build than a conventionally built home addition, but that is just one of the many reasons why a modular home can be better than a custom built home. Modular built additions have:
Superior insulation and high energy efficiency.

Faster installation times.

Quality control checks throughout the production.

Highly trained production workers and installers.

Complete inspections during each phase of construction.

Climate controlled construction during building.

Extended warranties and guarantees.

Conventional Vs. Modular

There are distinct advantages and disadvantages to both conventionally built room additions and modular room additions. Knowing which method of building that will work best for you is entirely up to your building site and your general contractor. Some general contractors may be unfamiliar with building modular home additions and might try to persuade you to build conventional stick additions. Be sure to get a few bids from a modular addition builder and you can be sure you'll get an unbiased opinion as to whether or not your home addition needs to be built conventionally or can be built modularly.

In some cases, a modular room addition is out of the question. Areas that have deed restrictions only allow stick built room additions. Be sure to call your local zoning committee or planning department to make certain your building lot hasn't got deed restrictions preventing the installation of a modular built home addition. Heavy fines and possible removal of the structure could result if the proper community deed restrictions guidelines aren't followed correctly.
Other factors like access to the site for delivery or no place to set up the crane for installing the modular addition can make a stick built room addition the only feasible solution for your room addition project.
Always be sure your general contractor assesses the building site prior to giving a bid to ensure that no problems arise when it's time to build your new room addition.

Now you are more prepared to build your modular addition or maybe a conventional home addition. Fill out the form below to get a list of contractors who can assess your existing house and neighborhood to provide you with estimates on your options. Good luck with your build, and bookmark us for future home improvement tips.
---
Expert Tip: Use our Automated Contractor Locating Service to find out which home addition builders are even worth calling in your neck of the woods. Simply fill out this form.