There are three essential tips to buying real estate.
They are location, location and location.
That's why adding on a second story to your existing home is the best way to upgrade living space without having to sacrifice your properties location by moving to a new area to occupy a larger home.
While a room addition can add space to your existing home easily; it's not for everybody. Adding onto your home with a conventional one story addition may take up too much space on the property or can encroach near a neighbor's boundary. The only solution is to add a two story addition. So what's the big secret to adding a two story addition to your home? There's not a lot to it but there are some considerations and precautions you should take before hiring a contractor or buying second story blueprints.

Deed Restrictions

Before planning on building a second story addition, you'll need to know exactly what your properties deed restrictions are. Some local communities impose deed restrictions against building second story homes, so always be sure to contact your local zoning and planning officials to verify legality issues concerning your second story addition.

Addition Blueprints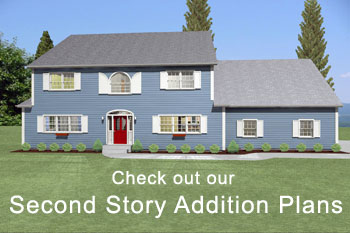 Blueprints for your second story addition are critical to beginning the first phase of your addition. Without the right blueprints, you can't hire a contractor or get the permits you need to get the project done. Blueprints can be bought already drawn or done from scratch by an architect. Many people opt out of hiring an architect and buy a set of pre-drawn blueprints to save money or just to get several ideas to put together when they do hire an architect. Whether you buy second story addition blueprints pre-drawn or you hire and architect for your blueprints, ensure your blueprints are complete and are sealed by an architect.

Building Department

Once you know your community deed restrictions are clear and you've got a good set of second story addition blueprints, you'll need to determine if building a second story addition is feasible with your city or county building department. Your local health department will need to know if your existing septic or sewage system can handle the additional load of a second bedroom or bathroom addition. Other code restrictions can prevent buildings from reaching over a predetermined height. Always be sure to visit your local building department with your set of second story blueprints to determine exactly what you need to get the permit process going.

Hiring a Contractor

Getting the most out of your second story addition is no big secret: it takes the right contractor to get the best job done. Whether you hire a contractor from personal references or you hire a contractor from a contractor service placement agency, you need to be sure they are licensed and insured. With a quick call to your local building department, you can do a quick background check on their licensing and insurance information. While licensing and insurance may mean a contractor can legally get the project done, it doesn't necessarily mean they will do a good job. Always be sure to get at least three or more contactable references from past clients.
A long list of past satisfied customers will ensure you're going to hire the right contractor for your second story room addition.

Payments

When working with a bank loan for your second story addition funding, it's critical that your contractor gets paid according to the banks schedule. Typically, a small deposit is paid up front, and then the payments are funded after specific phases of the project are complete. A bank inspector often comes to take pictures and record the progress of each phase's completion before releasing the funding from escrow. Always be sure to get all payment schedules in writing before signing any contracts to make certain the right people are being paid for the right projects.
---
.