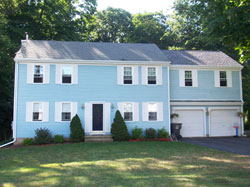 In the picture to the lower right, you can see a house with a room over the garage. That is a bonus room which included a master suite and an office. What type of room over the garage are you looking to build?
How Much Will The Bonus Room Cost?
Check out our bonus room addition plans on this page to get an idea of how much a similar project can cost for you. Remember that to get an accurate cost for your project, you will have to get an experienced addition builder to come out to evaluate your house. Fill out the form below for a list of 3 top rated addition builders in your area.