Negotiating a contract with a contractor can be a lot like getting a cavity filled-it's not very fun, but it has to be done.
Without haggling a little over the price, you're bound to get stuck with a few extra building costs.
While most contractors are looking out for your best interests; they are still out to make some money for themselves.
By using a few of these tips and tactics for negotiating with a contractor, you'll be sure to get the best deal for the best price on your room addition or renovation.

Multiple Bids - Getting multiple bids can really help you to see the big picture. While one contractor might come in with a bid at $9,000, another contractor might price their bid at $6,000-and all for the same addition to your kitchen. Receiving multiple bids can help you to tell apples from oranges. One contractor might have a deal with the local appliance center and therefore push one particular brand while another's bid allows for a wide variety of appliances. Determining which is the best deal is up to you and your extensive research between bids.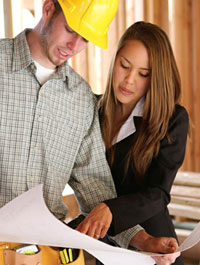 Cost Breakdown Lists - A cost break down list is often used by a contractor to determine how much the home renovation cost will be. It also provides labor details and scheduling of the project. This is how a contractor determines how much they are going to make, typically a certain percentage of the overall building costs. Finding out what the job is going to cost will better allow you to see how much each contractor is going to make from your job.
Extras - Negotiating for extras can be a great way to get a little extra from your contractor. If they are willing to sell their bid, they will be willing to chip in a little extra for the contract. Find out which contractors extra is the most valuable and you could save big on your room addition or renovation.
Consultation - Some contractors will allow you to use their license and subcontractors to be your own DIY contractor. This can allow you to create your own personal touches on the room addition, while still remaining in tight control of the budget.
Seasonal Work
- Depending upon your region, seasonal work is delegated to summer, spring and fall. Some contractors are willing to give you a break in the price on winter weather work to give them the extra work during the off-season.
Hiring a contractor in the prime building season of spring and summer always means a long wait and more building costs.
Discount Materials - Many contractors get contractor discounts at certain supply stores. Finding a contractor who is ready to negotiate on material prices is not only a good way to save money, it's also a good sign that they have a good history within the building community.
DIY - To save big bucks on your room addition or renovation, doing it yourself can help you save big time. But without the right experience, you're done for. Your contractor may allow you to do some of the lighter work like hauling debris, painting baseboard or getting materials to help you save extra money on your construction project.
---