Getting a proper estimate from your local contractor requires some homework on your part.
Don't worry; the effort you put in will pay off in the end.
Home addition estimates can get complex, because in some cases homeowners are doubling the size of their existing home.
Adding a second story addition to a single level home is easy to do if you have the proper experience, but pretty difficult for a contractor who is just starting out.
We created this simple guideline for you to follow, which will help you get up to speed.

Step 1: List your goals.
Example - Add second bedroom and a family room.
Step 2: Visualize and roughly sketch where this addition should go.


Example - This second bedroom addition should be built off the rear right side of our house and the family room should be built connected to the kitchen.

Step 3: Assess the size of each room addition.
Example - If you plan on adding a bedroom it may be a good idea to take a trip to your local furniture store with a tape measure, pencil, and graphing paper. Measure the furniture that you plan on putting in the room and put its dimensions on paper. When you get home, sketch out a room that can accommodate your furniture as well as provide enough space to walk around it.
Note: A Design/Build Construction Company or Residential Architect can create a virtual rendering of your home addition with the furniture in it, thus giving you a proper concept of space.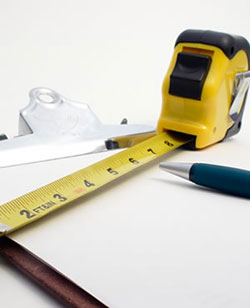 Step 4: Find a qualified company.
1. We suggest that you visit your local Better Business Bureau's website and research each company's performance history online. Recently the Better Business Bureau released a letter grading system making it easier for consumers to find the proper contractor or remodeling company.
2. Research each company's complaint and license history with your local Department of Consumer Protections and the BBB (Better Business Bureau).
3. A Reputable contractor or remodeling firm will have a respectable record, and preferably zero complaints filed against them. A complaint usually implies that the company or contractor failed to resolve a matter with the consumer, leaving the consumer helpless.
4. Request to see photos of previous home additions that they have built. Not every contractor knows how to build a room addition the right way, it is best to do your homework on each company before you shell out the big bucks on an addition project.
5. Request a detailed estimate and ask if the price on the estimate will stick if nothing else changes. Prices can chancge for this following reasons:
Number One: During the foundation phase the contractor uncovers solid ledge, larger than the size of a small Volkswagen, which may need to be blasted in order to proceed.
Number Two: A customer requests a change order, adding something such as more windows, skylights, etc.
Number Three: The existing structure needs repairs due to unforeseen conditions such as termite damage, water damage, etc.
6. Request to see a copy of their home addition contract. A home addition contract should be well detailed depicting the rooms to be added, the materials to be used, and the costs that you will have to pay for. A detailed contract protects you from contractors who have little experience with large projects such as home additions.
7. Verify References. Ask for a list of references of customers who had home additions built. Ensure that they are not giving you references for other project types (example: roofing jobs, tile work, etc.). Remember a home addition is a complex project where most of the time you are completely changing the energy efficiency of a home. An experienced and reputable company knows how to engineer the project so that your electrical, plumbing, and HVAC systems work seamlessly once completed.
8. Be realistic and do not choose a company on price alone. Many times consumers choose contractors because of price alone; only to find out that the contractor they hired did not have the skill necessary to accomplish their project properly.It is wise to remember that in the beginning it may seem that saving a couple thousand on a hundred thousand dollar project is a big deal, but if the contractor you hired makes inexperienced mistakes, you will have to cough up more money later.
In conclusion finding the right company to build your home addition should be done with care. It is easy to become another statistic if you decide to not follow some guidance.
A home addition is usually an expensive project where if a mistake is made, the mistake costs big bucks to fix. Experienced construction companies know how to properly estimate these projects because they have already experienced the most common newbie mistakes. Plan wisely. -Voitek L. Klimczyk
---
You can use our free contractor locating service and find out who we think you should be talking to about your room addition project.
Get a list of local contractors in less than 48 hours by filling out the form below. Alternatively you can call 855-Hire-Home and answer your project questions over the phone.