Finding the right architect is an important step for any major renovation like a home addition or new construction project such as a new home. Before you start looking through the Yellowpages or the internet for the right architect, you first have to decide on a few key factors.
What Level of Detail Do You Actually Need in Your Architectural Plans?
If you are looking for simple construction plans that you want to submit to your town hall to start construction, you should bypass the idea of acquiring 3D renderings of the house exterior or interior from an architect. This is especially true if you are trying to keep your project costs and design fees down.
The additional time needed to polish a 3D rendering will increase your design costs and it's not a requirement for any town hall. Just keep in mind that your design costs can increase greatly, if you plan on paying an architect to also do your conceptual design work.
What Is Conceptual Design Work?
Conceptual design work is what you can find all over SimplyAdditions.com for FREE! These are 3D renderings developed by qualified house designers, not architects. House Designers can take your ideas and use the same software an architect uses to develop the look and feel of your project at a much lower cost. You can then provide the house designs to your architect electronically using industry standard file formats such as: .DWG or .Plan files, and have the architect do the calculations, beam loads, and various other checks on the plans to make them construction ready. Because your architect will have most of the design work done already, they will require less time to complete your project which of course saves costs.
Getting The Conceptual Designs Done Inexpensively
A popular alternative to hiring an architect for the conceptual design work is hiring a qualified house designer instead. They can easily create conceptual designs for residential construction projects such as home additions, two story home extensions, and even new construction projects. You can always give your conceptual designs to your architect and save even more money off of your project, because your architect will have a concept that they can work from right away.
Without having the concept drawings in hand, you'll have to sit down with the architect and go over all the design ideas, which of course the architect will have to bill you for. On the other hand, you can hand them your conceptual designs (like our house plans or home addition plans), and they will be able to cut your consultation time dramatically, which will save you cash.
What Level of Detail Plans Do I Need To Start Construction
We have built many home additions in Connecticut with simple building grade plans that include just the minimum requirements most town halls would ask for. If you're looking to have your project conceptualized using the latest architectural software to give you a virtual idea of what your actually building, be prepared to pay the additional cost which will have little bearing on what the town hall actually needs in order to proceed with the project.
There are many home designers like SimplyAdditions.com that can design your project in great detail without having to shell out the big bucks for paying an actual architect to do the design work. Why the dramatic cost difference? House Designers can be trained general contrators, engineering students, and even construction managers who know just enough about architectural design to provide you with a great 3D virtual concepts of the project your aiming to build. The design fee a house designer charges is generally a lot cheaper than what the same thing would cost you, if you hire an architect.
10 Tips For Finding An Architect or House Designer
1. Before you fire up a search engine or pick up the yellow pages, your first step should be to ask your friends, neighbors and co-workers for referals from people they know or have done business with.
2. Special projects require someone who has experience in that particular area. If you have a historical home that you are restoring, you should check with the local historical society or the zoning board to see who they used in the past.
3. Use Google to find architects and house designers near your zip code.
4. Call the architects and house designers you find and interview them.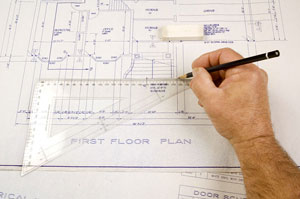 5. Discuss all fees before you sign any paperwork.
6. Always ask for references from similar design projects.
7. Ensure that your architect has the required licenses and that they are still active.
8. Ask for the addresses of similar projects they worked on.
9. Find local professionals on Better Business Bureau and the Local Chamber of Commerce. Check to see if your architect or house designer is a member. Architects and designer who care about their work and customer service tend to be a member of these affiliations.
10. Make sure that the personality of your architect is something that is compatible with yours. You will be working with this person for many months, so it's always a good idea to find people you get along with.
For large projects like Room Additions, Custom Homes, & Sunrooms, you can get free estimates for design work simply by filling out the form below.
---