Expert Planning
Poor planning can result in construction delays, building troubles, construction rework, and overages.
Ask your contractor prospects how do they plan their project.
Do they do it off the top of their head, a notepad, Microsoft Excel spreadsheet, special software, etc.
Expert Design
Poor design can lead to structural problems, aesthetic problems, HVAC problems, plumbing problems, and a reduced level of home efficiency.Ask your contractors who does their design work. Do they do all the design in-house? Do they have their own architect? How many years experience does the design person have?
Expert Management
Poor management can lead to quality problems, construction delays, disorganized job-sites, hazardous job-sites, and increased preventable property damages.Ask about how the management of the project is handled. Is their a project manager on site everyday? What happens when there is a problem? A good contractor should be able to answer this with ease.
Customer Service
Meager customer service can leave you feeling stressed, unsure about the progress or results, and unsafe about the future of your project.Ask your contractor how your questions and concerns will be handled before you hire them. Do you get their personal cell phone number? Do you send an email? Find out how all customer service issues are handled.
Expert in Building Additions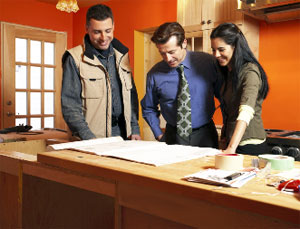 Non specialized home improvement companies may not know how to handle HVAC, Plumbing, and Electrical work properly; also increased construction delays and change orders are common.If you are building a large project such as a room addition, you will need someone with experience. Find out exactly how many room additions this contractor has built, and ask for references.
Better Business Bureau Accredited
Non members may not care about how consumers perceive their quality and business ethics; construction results can be less than average.It does make it easier for a homeowner to pick a contractor that is accredited with the Better Business Bureau, but it is not a must have. If they are, you can usually look up their complaint history through your local BBB website.
Clean Consumer Protections Record
Complaints should be viewed as a sign of negligence; a complaint history reflects that the hired company never addressed what the consumer said was not acceptable to them.Sometimes honest contractors get complaints from unreasonable people, it does happen, but if the contractor has an extensive complaint history, you may want to steer away from hiring them. Ask your contractor about their complaint history and look it up with your local BBB and DCP.
Active License & Insurance Policies
Unlicensed contractors sometimes lie about their experience and contractors without insurance policies can be a homeowner's most expensive mistake. Before you hire anyone, tell them that you will need their license and insurance policy numbers. Once you get them, call your state to verify that the license is active and call their insurance carriers to verify that their policy is also active.
Detailed Contracts and Quotes
If it is not written down they do not have to give it to you and it will not hold up in court. This is one of the biggest reasons homeowners lose lawsuits against contractors, because lack of detail in the contract equates to lack of proof in the court room.Ask your contractor about the level of detail that will be given for your project. Ask if you can specify the level of detail yourself. A professional contractor should be able to handle your request with ease, because they will be tracking all the details of your project on a computer anyway.