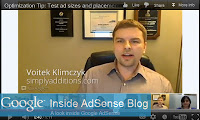 Google loves what I'm doing so much, that they asked me to be in several of their commecials on the Google Adsense YouTube Channel and their Adsense Blog.
I'm serious!
click the links above
Hi,
My name is Voitek, but you can call me by my middle name "Lex", like Superman's friend (until season 3) on Smallville . My superpower is taking complex jobs and making them simple to do! That's why I go by ProvenHelper on social media.
I retired from being a General Contractor in 2010, and decided to focus on what I have always done best: creating How-to Guides which I began doing on here and My Youtube Channel. I've been creating tutorials for over 23 years, and I got so good at it, that the Better Business Bureau awarded me for Excellence in Consumer Education. Several of the articles below are the reasons why.
There's a lot of remodeling advice on the internet, but unfortunetly a lot of it is written by people who know websites, but don't actually know the facts about real world construction. I wouldn't get my legal advice from my plumber, so why get your remodeling advice from a blogger? A blogger wouldn't really know what took me years of building additions to figure out.
The Good News is that you now have a general contractor buddy you can count on for all of your home improvement needs. Below you will find links to only 5% of the content you can find on SimplyAdditions.com today. (Want to be my buddy for real? look for me on social media using the links above.)
Now let me tell you why it's such a good idea to talk with and get your remodeling advice from a real general contractor who happens to be posting money saving trade secrets every week on the internet, since he decided to pursue his dream career in 2010!
What Do My General Contractor Secrets Actually Reveal?
1. How To Save Cold Hard Cash: It's simple really, my advice allows you to neogiate terms with the contractors bidding on your project. 99% of homeowners have no idea that they can do this. The people who figured it out, are flipping houses on TV!
2. How to Actually Hire The Right Contractor:I reveal my hiring and managing advice for subcontractors (Just think how much you could save on your project if you had a General Contractor friend), because most people have no idea how much leverage they have BEFORE they sign on the dotted line.
3. PROTECTION: I spent years and hundreds of thousands in making an honest name for myself in CT and along the way I learned how to protect myself from subcontractors because as a GC I had to hire, fire, and manage over 100 different people during my stint in home addition building.
4. You can find everything you need on this site to make your project On Budget, On Time, and With Minimal Stress. You can use the search engine at the top of the page, and if all else fails, contact me through social media 'ProvenHelper'.
Here's a Quick Link to my How-to Hire Home Improvement Contractors Section (under How-to Articles in the main menu).
---
Home & Garden Articles: These have not yet been categorized: