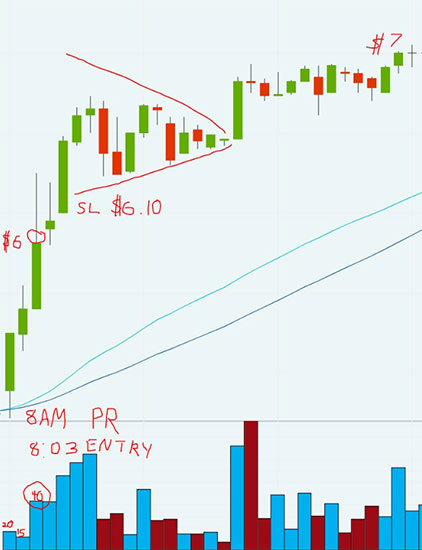 Trading a SuperNova stock is an exhilarating experience filled with data points and signals you can hopefully put to use trading the next supernova stock just around the corner. I used to stay away from supernovas because they are wild and known for making $.50 to $1.00 moves in a single second.
Let's say you bought 1000 shares of $BPTH on March 6 2018 when the news hit at 8am at $5.20 a share in just 5 minutes your 1000 shares would have netted you $1,560 in profit! Not bad for 5 minutes work, right? What's even nuttier is if you start getting comfortable with larger share amounts for instance 2000 shares would have netted you $3,000 in that first 5 minute run of BPTH!
It's All About Being Ready for PreMarket Runners
I'm going to analyze hot stocks on SimplyAddiotions.com in this blog section from now on. Spreading some of my tips, observations and trading lessons that could benefit you in the future. I post about my progress on Twitter if you want to follow my P&L since I started in 2018.
Now lets examine what happened with $BPTH: Bio Path Holdings Inc.. Below is a snippet from Benzinga Pro which includes the powerful & very bullish headline. Please read and extract all the keywords that you feel make this stock news snippet worthy of a 200% intraday move from a pre-market 8am press release.
At 8am sharp, Benzinga posted the following news alert:
Bio-Path Announces Clinical Update to Interim Analysis of Phase 2 Prexigebersen Trial in Acute Myeloid Leukemia
Here's the 8:02am news snippet from Benzinga Pro, this was the exciting one:
Bio-Path Offers Update To Interim Analysis Of Phase 2 Prexigebersen Trial In Acute Myeloid Leukemia: Showed 'Meaningful Clinical Improvement with Excellent Patient Safety Profile'
Did you notice what words were missing in the first press release? Take a closer look, because it's those exact words that made all the difference. But Benzinga Pro is not the only news streamer in town, however it is pretty good at putting news in front of your face that actually matters, instead of a flood of news from TOS or Etrade Pro that's not all that useful because it isn't filtered.
Actually I haven't played around with the TOS news too much, since I already pay for Benzinga Pro, comment on my Facebook or Twitter if you have some TOS news tricks that I'm not aware of.
Snapshot of BTPH in PreMarket
In the morning stocks run the minute/second they report compelling news. Usually 7am, 7:30, and 8am press release cycles get the most attention. At those specific times you will notice a flood of news hitting the newsfeeds. It's your job to spot money making press releases and within seconds analyze the charts and the press releases to make a final judgement on whether you chould hop on the train that's most likely already started taking off.
Sometimes stocks spike so quickly, you feel scared to jump in because it already moved so much. After 1 year of trading every single day, I've learned about a few news releases that can really rocket a stock to SuperNova status. The caveat is that sometimes crappie companies repost old news which tricks newer traders and the stock takes a quick pop and dump once experienced traders spotted that the news was rehashed.
Analyzing Entry and Exit Points for Trading a PreMarket SuperNova Like BPTH
Okay so when it comes to premarket you essentially have to analyze a trde in seconds and make a decision. After the day was over today, I printed out charts of BPTH and red markered the hell out of them.
Etrade Makes Pre-Market and After-Hours Trading Clunky
I'm not a big fan of playing in Pre-market or After-hours because Etrade still hasn't figured out what day traders need. I actually submitted some emails about my ideas, and if they're smart, they should implement them, simply no brainers IMO. Anyways I used Etrade Pro and it is good for some stuff, but hotkeys and a useful trading ladder like the one found in Think or Swim is not their strong suit.
First let me tell you that if I had to depend on Etrade Pro hotkeys (speedkeys), I would probably never trade unless it was a really slow moving stock. I don't know if Etrade Pro works well with other software, because the hotkeys have been very inconsistent and when seconds matter, that can be down right scary. So since I started trading in January 2018, I have not had the ability to use awesome hotkeys, instead I enter hot stocks using market orders and for stocks under $15, I generally get filled in okay spots. But of course if I had hotkeys, I can get filled at the current spot +$.05 if that's the macro I programmed. These are awesome trading tools that SHOUILD BE WORKING in Etrade Pro, not sure what the problem is, unless it's a software conflict.
Since I trade in Etrade Pro, I don't really have reliable hotkeys, which they call speedkeys. For some reason I can't get consistent performance out of them, probably because I'm running Trade Ideas, Benzinga, chatroom, a OBS Studio screen recorder, and a bunch of Google Chrome browser windows which somehow screw up Etrade Pro hotkeys. Anyways I got used to doing market orders on fast moving stocks. Works okay with stocks under $15, but I did notice that when I trade bigger stocks like TSLA or MSFT I would get horrible fills. So I definitely don't recommend Etrade Pro market orders on big cap stocks.
Word from Me:
Guys I am a perfectionist, but nowadays I have to choose my battles because day trading has taken over my life. I hope you enjoyed this post, I tried to make it useful and information packed, but I admit I don't have a lot of time for editing, so if y ou catch a mistake, please reach me on Facebook or Twitter so I can correct it. My plan is to post these blogs more often and not worry as much on thorough editing. My goal is to share my trading insights in an informal way and who knows, maybe one day we'll be trading together somewhere, you never know.
See you on the next one!