Hi and welcome to my first live trading video lesson. Today we're going to watch and discuss how I traded ticker $TIS (Orchids Paper Prods). This stock trade netted a quick $120 in profit in ONLY 7 minutes!
Lesson Skill Level: Intermediate – Some trading knowledge is required to fully understand this lesson.
Please visit Investopedia.com to brush up on any of the terminology if you're brand new to trading stocks.
Background: In 2018 I began studying the stock market fulltime after being introduced to day trading and seeing with my own eyes the mind boggling moves a stock can make percentage wise in a single day.
I personally seen a stock quadruple in value in less than 1 hour! That's a 400% gain on your investment if you got in at the right time. Educating yourself to be a great day trader is all about learning when to get in at the right time.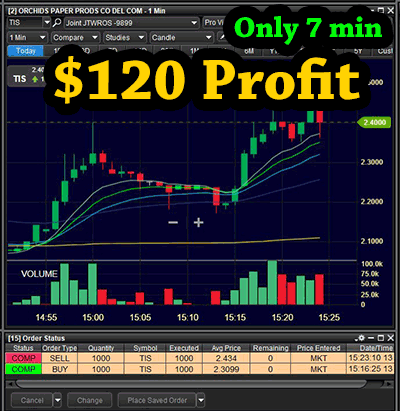 The Trade:
Ticker: $TIS Orchids Paper Products Company (NYSE)
Date: 08/13/2018
Buy: 1000 Shares of TIS average price of $2.3099 at 3:16pm EST
Sell: 1000 Shares of TIS average price of $2.434 at 3:23pm EST
Calculating Profit & Loss:
1000 shares x $2.3099 = $2,309.90 total opening position
1000 shares x $2.434 = $2,434.00 total closed position
P&L = $124.10 in Profit
Trade Duration = 7 minutes
Trade Catalyst: Q2 Earnings Call to be held on August 13, 2018 at 10:00 AM Eastern Time.
Why I Got Into This Break of Resistance Trade?
On Monday the 13th of August 2018 I thought I was going to take the day off, but once you become a fulltime day trader you soon realize that it's pretty hard to not watch the market, especially if you have some free time in your day.
Well at 1pm I fired up my whole gauntlet of stock trading software and for me that includes: Etrade Pro, Trade Ideas Pro, Benzinga Pro, and the Dekmar Trades chatroom. For the first 2 hours I followed $TIS but wasn't 100% confident in it.
At 3pm however, TIS sparked my interest, and the video below explains why.
BTW: This particular trading lesson is in 4k, so I suggest you enable the full-screen option and select the highest quality. In the future I'm going to record the trades in 1080p.
The reason I'm sharing my trading video lessons and tips is simply to help other stock traders out. If you're new to stock trading you may already know that you have to constantly study and one of the best tools to take advantage of is live trading videos.