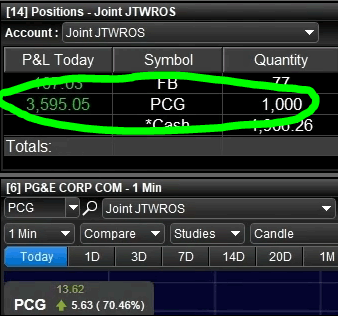 The other day I made over $3,600 in less than 7 minutes day trading breaking news on the California electric company blamed for wildfires in 2017 & 2018. Yes I'm talking about ticker $PCG otherwise known to people as PG&E Corp. This was one of the most exhilarating trades of my short career as a full-time day trader. Steven Dux made a name for himself making multi-thousand to hundred thousand dollar trades and for us new traders, I can't think of anything better than to dissect his entry and exit points from his https://profit.ly/user/dux page.
How I Made $3,600+ Dollars in 7 minutes Day Trading PCG Stock
At the end of this article I'll embed a video of how fast the profit was flying into my Etrade Pro account once I locked in a position on $PCG with 1000 shares. But the main purpose of this post is to look at a short trade by Mr. Dux and extrapolate his entry and exit points based solely on the intraday and daily charts.
Examining How Steven Dux Short Traded TNXP
Let's take a close look at how Dux traded $TNXP on 12-7-2018 in this chart. I marked the price points within Think or Swim to give us an idea of what most likely Steven was thinking about here, since I'm not in Tim Sykes Millionaire Challenge Chatroom, although I was in Pennystocking Silver for several months when I first started. Who hasn't, right?
TNXP Head and Shoulders Pattern Short Trade
On these TOS (Think or Swim) charts below, we have the 1 min intraday chart on top (chart 1) and the 10 day 30 min chart (chart 2) below it.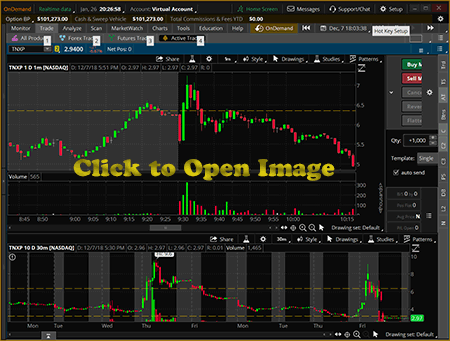 From Profitly we only have the following data for this trade:
Short Entry: $6.37
Cover Price / Exit: $3.19
Shares: 37,000
Profit: $117,247
Percentage Gain: 49.92%
If you look at chart 1 the most probable short entry would have occurred on the 1st red candle forming the second shoulder of the Head and Shoulders pattern. This was at 9:44am.
Now let's look at chart 2 from the 10 day chart and see if we notice any support or resistance areas close to our $6.36 price line. You can clearly see that the $6.36 area on Friday from November 30th 2018 was a major chart resistance area. Well folks Steve's entry for TNXP is a no brainer. He looked at previous chart resistance, possibly drawn lines like Madaz likes to do, or simply just observed the daily and intraday charts while trading like I do.
Dux saw that $7 was major resistance in pre-market so if $7 wasn't broken and held that level or above with consolidation, he knew that the stock would most likely have a strong pullback.
Right out of the open TNXP dumps $.75 cents in the 1st minute, then immediately recovers and continues spiking. I don't trade the open personally because I don't have an edge, so it's too gamble for me.
Let's look at how quickly TNXP jumps to $7.24, then immediately looses the $.24 and goes back to $7 resistance area. The 3rd candle of the day actually closed at $7.01. This would tell me that either the stock is going to try to maintain the sevens or it's about to go back down. Well as we can both see on the chart below, the stock couldn't get past $7.01 again on the next candle which was red with a long wick below it. Once the stock began dropping you can clearly see that this chart could be drawing a Head and Shoulders pattern. TNXP cracks to the $5.84 area and only has a small bounce of $.36 cents then it drops again and makes a new low of $5.76. from their it tries to recover by bouncing higher than before only to top out right around the $6.36 major resistance area. So there you have it, the stock in the past 14 minutes of trading had several large red candles on the 1 minute chart and there was a strong possibility that $6.36 would hold. I personally would have put a $.12 stop loss on my short in case it tried ripping or even worse short squeezing me.
Finding the Perfect Entry for a Head and Shoulders Short Trade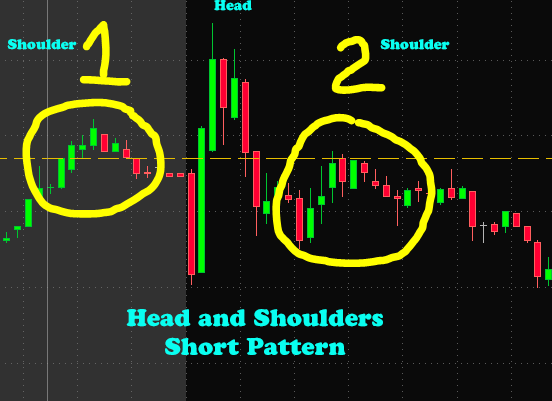 So this entry point seems very logical and almost a no brainer once we look at it over after the fact. The stock formed a head and shoulders pattern at previous chart resistance and it showed signs of weakness in it's ability to hold a high. The best entry for a Head and Shoulders short is what you think would be the top of the second shoulder. I probably would have waited till 9:47am for the 5th candle on the second should for my entry since I'm still new to shorting and I would want confirmation that this is the second shoulder and that TNXP is weakening.
How Did Steven Dux Pick His Short Cover Exit on TNXP
Can you guess where Dux decided he wanted to cover at? Well as someone that's constantly watching and listening to professional traders, I can tell you that most of the time, they will cover their short at a support level.
Let's look at TNXP, the stock closed at $3.16 on the day before which was Thursday the 6th. So looks like we figured out that on this particular short trade by Mr. Dux, he shorted at resistance on a very popular short pattern, which I'm assuming he uses often (we'll look into this in future blog posts). And then he covered after a major crack to the down side close to the previous days close which was a nice flat support level. Mystery Solved.
About My Day Trading Journey
As many of the day traders I've met in chatrooms, I came into the world of day trading by looking into Timothy Sykes. Naturally I learned about Steven Dux and Tim Gritanni, both who have inspired me to work my ass off to make it into the top 10% of traders who actually make it.
As we all know 2018 was a strange year because for the first time in 9 years the stock market had a pretty big correction. That correction came at a time when I was geared up to make a killing off of Supernova stocks. Honesty that's the area I'm currently best at, but in 2019 I started the next chapter in my trading career by doing the things only the most profitable traders do. That means daily notes, spreadsheet tracking, and analyzing the trades of very successful day traders like Steven Dux and Tim Gritanni.
Bookmark my Simply Additions site as my goal is to help other traders make additions into their bank account. I'll analyze and extrapolate the answers me and you both want as to what do the top traders actually do in certain situations. Take Care and I'll see you on the next one.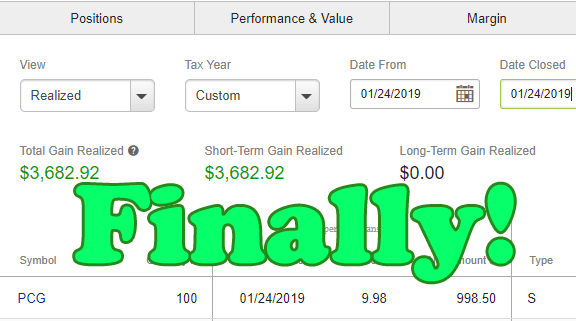 P.S. I will be embedding the video or link into this article as soon as I create a YouTube video for my AMAZING $PCG trade. I made over $3,682 on breaking news and recorded the trade from start to finish. The only problem is I use OBS Studio to record my 43" 4k Sony TV and I have to edit the video into 1080p. Trust me, that video is coming soon and I'll post an update on my Twitter Page when it happens.