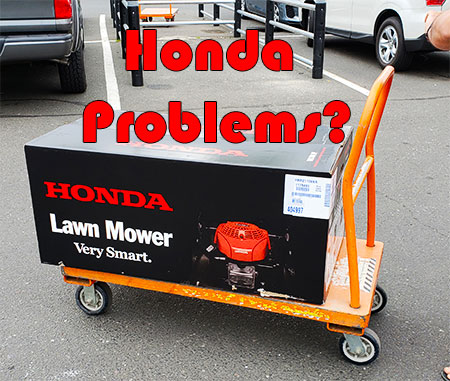 Did you ever buy somebody a gift and it ends up blowing up in your face? Well that's what happened when I bought a Honda HRR216VKA self-propelled lawn mower for my dad as a Fathers Day Gift.
I personally recommend the HRR216VKA mower in my self-propelled lawn mower buying guide, so I feel a little silly that I didn't know about the legitimate problem people are having with pulling the lawn mower backwards. What happens is that there is some heavy resistance that almost feels like as if the mower had brakes that prevent it from going backwards with ease.
My dad told me about the problem over the weekend and my co-investor (brother-in-law) found some videos on YouTube showing how you can make some alterations to the drive system to make it better. But my dad want's no part in taking apart a 3 month old lawn mower when it has warranty. And after listening to my dad I have to agree, why should we take apart our brand new lawn mower when it shouldn't even have this problem to begin with.
Calling The Honda Authorized Dealer for Lawn Mower Problems
Well I called a local Honda authorized dealer here by my house and told them about the problem. They were well aware of the issue and asked me to come down with my dad and try the Honda mowers in their showroom. So I picked up my dad and took him to Farmington Valley Equipment and sure enough 3 out of the 4 Honda mowers they had on display also had the same resistance. I have to admit, the resistance does not feel right at all. You can test push and pull any lawn mower from all the popular brands and you will not get any resistance, in my personal opinion something was just not right here.
My dad seemed satisfied in knowing that at the very least all recent Hondas have that problem, but when I came home I did some further digging online, because this heavy resistance when pulling the lawn mower backwards just doesn't seem right.
Well on the Home Depot website I started to pour through the question and answers section and sure enough I found a Honda Representative commenting on the problem and specifically stating that there was a problem in manufacturing of the Honda HRR216VKA Lawn Mower and probably other models. Apparently Honda used the wrong diameter bushings and that is what is causing this unnecessary friction. If this was a minor issues I would have left it alone, but since my dad is having the issue and it bothers him enough to complain to me, I knew I had to do something about it. Also I know I have personally influenced probably a few hundred or more people through my website to buy this lawn mower. That's why I decided to put my private business in a blog post and post verbatim the exact letter I wrote to Honda a few minutes ago.
Did You Also Buy the Honda HRR216VKA Mower?
Now I'm only posting a copy of the Honda Case letter for reference to all my website visitors who have purchased the Honda mower. I 100% agree with everyone who thinks there is something wrong with the amount of resistance felt when pulling the mower backwards. Hopefully Honda does the right thing here and fixes my dads mower and all of your mowers free of charge. Everyone who bought a Honda mower bought it for ease of use and reliability, I think this strange issue was a shocker to anyone who just bought one.
When I get replies from Honda, I will update this blog post. If you have any questions, reach me on Facebook or Twitter.
My Official Complaint Letter to Honda
---
I purchased this lawn mower as a Fathers Day gift for my dad on 6/15/2018 , he was a proud owner of a Honda Accord and has been talking about getting a Honda mower for several years. Long story short, I bought this mower for him for Fathers Day.
When I purchased the lawn mower from Bristol CT Home Depot, they did not have a display model and I was not aware of the heavy resistance these mowers have when pulling them backwards. My dad is convinced something is wrong with his 3 month old mower. I contacted Farmington Valley Equipment (authorized Honda Dealer) and told them about the problem. They asked me to come to the showroom and try their mowers. We did and 3 out of 4 Honda mowers exhibited heavy resistance on pullback.
When I came home I wanted to figure out what other people are saying about this problem, that's when I came across a post from a Honda Representative on the Home Depot site for my mower.
https://www.homedepot.com/p/Honda-21-in-3-in-1-Variable-Speed-Gas-Walk-Behind-Self-Propelled-Lawn-Mower-with-Auto-Choke-HRR216VKA/203709643
Honda Representative Explanation of the Problem with Honda HRR216VKA Lawn Mowers
This post can be found in the Q&A section:
---
December 4, 2017
About a year ago, a limited number of mowers were built with undersized bushings, which would cause some extra effort to pull backwards. A Service Bulletin was issued, and models under warranty were repaired at no charge. More recent production (since spring of 2017) have been built with the correctly sized bushings. You can expect to find these for sale from this site, or you local Home Depot. [email protected]>
---
The resistance seems to be an issue especially since my dad is older. Can you get his mower fixed with the new bushings or whatever it needs to alleviate this problem. It is a lot harder to maneuver backwards than all competitor models. He's a major Honda fan, but noticeably unhappy about this particular problem, especially since his 25 year Craftsman never had this issue, which he likes to point out.
Lastly, he asked me if there's anything that can be done to silence the muffler a little bit, I'm not aware of anything but if you know of a product please let me know as well. Thanks.
Sincerely,
Voitek Klimczyk
---
Official Response from HONDA
---
Hello,
Since I already spoke with the staff at an authorized Honda dealer I don't expect them to change my bushings since their display models exhibit the same heavy resistance. This is one of those situations that could have been avoided if there were some display models at my local Home Depot. But I expected a Honda to be easy to use, so looks like in this situation I'm just out of luck.
DON"T BUT a HONDA lawn mower without trying out a display model! If you can't find it at your local Home Depot or Lowes, find an authorized dealer using the
Honda dealer locator
website.