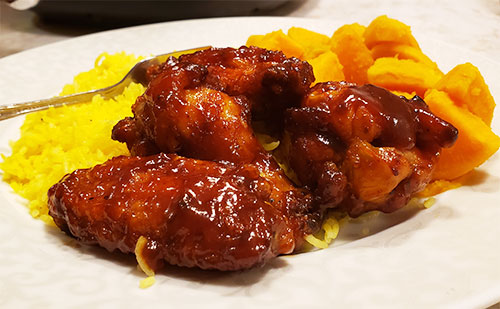 You're not going to believe how delicious this fried chicken wings recipe is!
We used a Ninja Airfryer, and honestly we weren't even sure that we were going to keep it. It sat in our house for a week before we tried it for the first time.
First Time Frying Chicken Wings Using Ninja Airfryer
I love fried chicken wings, but the nationally famous restaurant that I used to get my chicken wings from must have changed their recipe. So I have been dying to try some good chicken wings and I have to be 100% honest, I had no idea an Airfryer can produce such amazing results! Seriously if you follow this fried chicken wing recipe you're going to love end result.
Dry Rub Ingredients for Chicken Wings
Paprika

Chili Powder

Salt
Preparation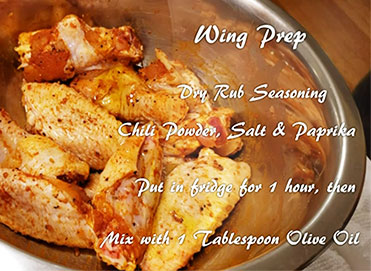 If you're not use to using these ingredients go lightly with the dry rub mixture. The goal is to make the wings resemble ours in this picture.
How-to Alter the Spice Level of Your Chicken Wings
We like spicy chicken wings, but you can alter the flavor profile to your personal tastes, that's why I didn't list how much of the ingredients you should put in. If it's your first time, do a pinch of salt, pinch of paprika, and pinch of chili powder.
Once the wings have fried in your airfryer, taste the wings and see if you like the flavor profile and spice level. Next time make adjustments to bring your chicken wings to the ultimate level.
Top of Your Wings with Tasty BBQ Sauce
Even if you didn't put enough spices, I wouldn't worry. A great barbecue sauce on your crispy chicken wings will elevate the tastiness to level 10. My favorite barbecue sauce at the moment is Kinder's Exxxtra Hot BBQ Sauce. I am not sponsored by them, but dam… That BBQ sauce is the best I have tasted. The only restaurant that had something this tasty was Famous Daves.
How-to Fry Crispy Chicken Wings Video