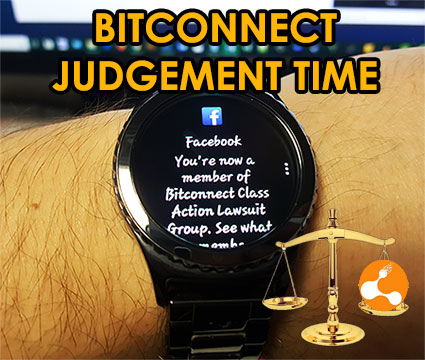 On 1/20/2018 I have contacted the Silver Miller Law Firm to join the class action lawsuit against Bitconnect and its founders (scam artists). I hate to admit it for my ego's sake, I fell into the marketing trap orchestrated by Bitconnect and its members.
On 12/27/2017 I invested $480 into the Bitconnect Lending Platform. Bitconnect closed its lending platform on 1/16/2018 and said that it's members were going to be able to get their money back once they reopen the exchange. Unfortunately for us, when they reopened the exchange our money was worth roughly 1/10th of our initial investment. Bitconnect did not honor their commitment once again, and they have roughly 1.5 million very angry world citizens wanting justice. I'm certainly one of them. The old 'Voitek' would like to kick the #$% out of the founders, but luckily I'm a bit more older and wiser now.
Today I looked around for law firms who are starting a class action lawsuit against Bitconnect and its founders. I've contacted them and when I get a response, I'll update this post for all the people who fell into the Bitconnect trap like I did.
Obviously after the fact, I found numerous videos and articles that would have possibly deterred me from trying their lending program. I'm keeping this article on my site for reference because I know that there's plenty of other lending platforms like the DavorCoin Lending Platform, which I don't know much about. But hopefully people interested in DavorCoin can read this post and scrutinize their judgement of the theoretical opportunity.
Crypto currency is a new high tech method for scumbags to defraud people out of money. Some will be incredible investments that will make millions of world citizens wealthy, while others will go to ZERO. Let this article be a warning to anyone who found a too good to be true crypto currency investment opportunity. ALWAYS check their website and see how easy it is to find the founders on there. If the founders are missing, that should be a gigantic red flag!
Bitconnect received BTC Bitcoin when it was valued at $1,000 per coin!. They (Bitconnect Founders the scam artists) made a killing on the rise of Bitcoin value alone that they were holding from us (the investors). Now they orchestrated an exit scam leaving millions of people frustrated and angry because they returned to us practically worthless BCC Bitconnect Tokens. This my friends is NOT ethical, this is why they are scumbags, and they need to be punished properly.

If you want updates on what's going on with the class action lawsuit against Bitconnect, or if you want to see what information I'll uncover about the founders of Bitconnect, stay tuned. Just bookmark this page and follow me on Twitter as well.
I'm 100% invested into day trading, a world where people routinely invest money into horrible worthless companies and MAKE MONEY. I knew that trading bots are real, and that Bitcoin was going up in value. I also knew that a company with all the money Bitconnect stole, could have easily created an actual trading algorithm to make money from the volatility of crypto currency . Hell, you can create your own trading robot. But unfortunately I didn't dig deep enough into the history of Bitconnect because my plan was always to pull out my lending profits every month (which I didn't get a chance to), and only risk the money I would actually make on Bitconnect.
Stay tuned, I already know who all the Bitconnect founders are, and will update this post for all fellow investors who are holding practically worthless BCC tokens.
| | |
| --- | --- |
| Date | Description(of the document filed at Companies House) |
| 3-Oct-17 | Confirmation statement made on 3 October 2017 with updates |
| 26-Sep-17 | Appointment of Mr John Bigatton as a director on 26 September 2017 |
| 26-Sep-17 | Appointment of Mr Jean Simon Labreche as a director on 26 September 2017 |
| 26-Sep-17 | Appointment of Mr Jonas Dumalin as a director on 26 September 2017 |
| 18-Sep-17 | Appointment of Mr Nontokozo Mamfengu as a director on 18 September 2017 |
| 18-Sep-17 | Appointment of Mr Glenn Arcaro as a director on 18 September 2017 |
| | Part Rectified The address details of the director were removed from the AP01 on the 16/01/2018 as the information was forged |
| | |
| 18 Sep 2017 | Appointment of Mr Javellana Jonel as a director on 18 September 2017 |
| 18-Sep-17 | Appointment of Mr Binyeegob Muhammad as a director on 18 September 2017 |
| 18-Sep-17 | Appointment of Mr Wolf Jorgen as a director on 18 September 2017 |
| 18-Sep-17 | Appointment of Mr Kim Jongkeun as a director on 18 September 2017 |
| 18-Sep-17 | Appointment of Mr Darji Divyesh Dhansukhlal as a director on 18 September 2017 |
| 18-Sep-17 | Appointment of Mr Nguyen Ngoc Thuong as a director on 18 September 2017 |
| 6-Sep-17 | Incorporation |
I found these names by watching Bitconnect Class Action Lawsuit YouTube video by Badisse David Mehmet. He inspired me to contact the Silver Miller Law Firm. I know my loss is small compared to the losses I read about, but nevertheless these scumbags got under my skin. And after researching Ponzi Schemes, I know that usually all the orchestrators are sent to prison. So I'm not sure why people take the risk to be wealthy momentarily when the odds are very good that they'll be spending most if not a good portion of their life in prison.
9AM 1/17/2018 BITCONNECT HAS SHUTDOWN!!! SCAM ALERT!
Did I loose my original $480? Luckily not even 1 person signed up under my account.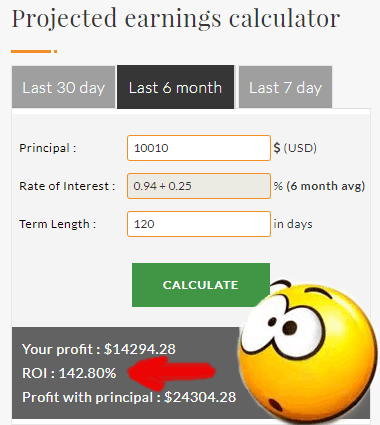 MORE to come once I find out more information! Leaving this post to remind myself of how silly I was, even though I knew the odds. I was hoping that Bitconnect would survive at least 2 more years. More info What Makes A Ponzi Scheme?

Recently I discovered my life's' hidden passion for day trading stocks, thanks to YouTube videos by Tim Sykes. Two months and hundreds of hours later in my day trading education, I accidentally came across a crypto currency called Bitconnect. What really intrigued me was how easily people were making money from doing Bitconnect Loans.
How Bitconnect Lending Convinced The Skeptic In Me To Dive In
As a selfmade 39 year old entrepreneur, I've been around the block a few times. My life experiences made me a bit skeptical especially about opportunities and Bitconnect triggered my BS radar instantly. First let me tell you how I accidentally learned about it.
YouTube My Refuge From Nerve Pain & A Blessing in Disguise?
When I was younger I did a lot of stupid things, some of those involved crashing cars over 100mph. Later on in life a freak moderate car accident left me with a lot to deal with. Anyways, on my bad days I lounge around on YouTube to distract myself as much as I can from my physical pain.
One of these days I was watching a car video of a young black guy in New York City racing around on the highway in his Dodge Challenger against a Mercedes C63 AMG and a BMW M3. He made the video interesting because of his commentary, you could tell he was really enjoying himself.
Anyways, at some point in the video he mentioned how he wouldn't even have this car or his other cars if it wasn't for Bitconnect. Now I've heard that term before, but because there's dozens of crypto currency coins out there, I didn't really pay any attention to it, until that day.
Digging through this guys YouTube channel I confirmed that in fact he did just buy some fancy sports cars and he is young, so that led me to look a litter deeper into Bitconnect. After all he made it sound so easy, so too good to be true.
What You Should Know About Bitconnect That Others Won't Tell You
There's a ton of ways and cryptocurrency coins you can invest into. A lot of them are in a bubble and experts are saying that you should be very careful. Hearing all these warnings, even from my day trading teacher Tim Sykes, I had no intention in learning yet another market. I have my hands full trying to learn the ins and outs of day trading, but that New York speed racer stayed on my mind for days.
Days later, someone in the day trading chatroom mentioned that they have $10,010 in Bitconnect Loans and that they're making more money with Bitconnect then they are day trading lately. That settled it, even my day trading crew is talking about this, I had to finally learn more about it.
Anyways, I wanted to find out what the NYC speed racer guy does, and that's when I found out about the Bitconnect Lending program. It works the same way bank loans work, except this time you are the bank and the customer is Bitconnect. Now why would Bitconnect need a loan from you? They will use your loan to earn money day trading in the crypto currency stock market. But those odds don't sound that great once you know how well a typical human investor does day trading, roughly 80% fail.
Well Bitconnect eliminates the human from the equation and uses a trading robot, otherwise known as a trading algo or trading algorithm. And if you're into trading stocks, you're probably well aware of trading algo's and big companies using them to make money in the market. It's actually nothing new, except this is the first time that I heard of crypto currency being involved and normal people instead of big billion dollar companies.
How Does Bitconnect Lending Actually Make You Money Everyday?
The Bitconnect Trading Algorithm uses your loan and its term to trade crypto currencies like Bitcoin every single day, until they have to release the capital back to you. The robot probably makes a killing but only pays the Lenders (us) a small fraction of the profits. However, since it began a little over 1 year ago, Bitconnect has been paying daily interest payments to everyone without fail. That's what put me over the edge, well that and seeing a bunch of people on Youtube buying cars and paying off their mortgages thanks to their Bitconnect Lending Profits.
Once you hear and see how much money people are making by participating in the Bitconnect Lending Platform, you'll probably start dreaming of the possibilities just like I did. And like clockwork, Bitconnect issues your daily loan interest into your lending wallet, it all seemed to good to be true, so is it?
The Bad Part About Bitconnect Lending, It WAS A Ponzi Scheme?
Before I invested into Bitconnect, I did some digging on the internet to see what I can find. I was determined to prove that it's a scam, so I could end this pursuit and get back to my endless studying of the day trading game.
I did find YouTube videos and posts on the internet claiming Bitconnect is a scam and that it's probably a Ponzi Scheme. That news did worry me quite a bit, however, I couldn't find 1 person on the internet who could prove they invested into the Bitconnect Lending Platform and they lost money. In fact, all I found was more proof that people who invested into the platform, were actually making daily interest on their crypto currency investment every single day.
What Is The Interest Rate That Bitconnect Loans Pay?
It's not a specific number, it based on what they call their Software Volatility Interest. That interest fluctuates from a measly .05% to over 2% per day. On average you'll be making somewhere around .80% on your original loan amount per day, and I can validate those numbers, because on 12/27/2017 I started a $480 loan with Bitconnect.
Bitconnect Loan Interest Payment Transparency
Anyone can look up how much Bitconnect has been paying out to their lenders every single day. There's interactive charts online, as well as Projected Earnings Calculators to help you figure out how much money you can earn based on the historical interest of the last 30 days, the last 6 months, and the last 7 days of interest payments.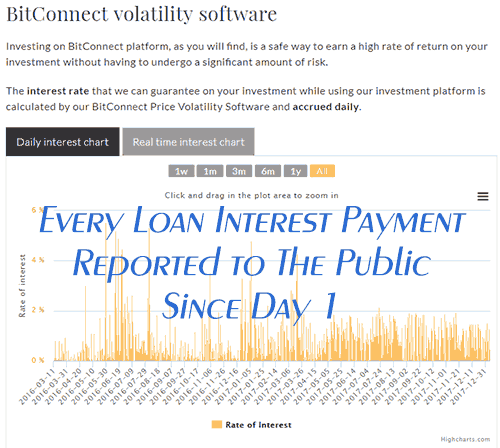 What Is The Average Daily Interest Payment On A Bitconnect Loan?
Bitconnect offers 4 tiers of loan amounts
| | | |
| --- | --- | --- |
| Lending amount | Interest (Accrued daily) | Capital release |
| $100 - $1000 | Volatility software interest | After 299 days |
| $1010 - $5000 | Volatility software interest + 0.10 % daily | After 239 days |
| $5010 - $10,000 | Volatility software interest + 0.20 % daily | After 179 days |
| $10,010 - $100,000 | Volatility software interest + 0.25 % daily | After 120 days |
My $480 loan falls into the first tier which means that I have to wait a whole 299 days until my capital is released. And the first tier is the only tier that doesn't guarantee ANY daily interest. However, if you look at the Bitconnect Lending Interest History Chart, you'll get the warm and fuzzies back when you notice that you'll earn about 1% of interest on average over the course of your loan, no matter what amount you put it in. However as seen by the chart above, once you step up to a $5010 loan amount, you'll receive an additional .20% with your Volatility Software Interest daily and that will add up very quickly.
If Bitconnect Is So Great Why Did I Invest Only $480?
Well any investment is a risk! And I don't have money to be throwing around like some people. Also this is a side play for me because I'm investing 90% of my time into learning how to be the best day trader. But at the same token, I have to mention that the second I took a hard look at Bitconnect Lending, I wrote a goal on the top of my list that said I will invest $10,000 from my day trading profits into Bitconnect Lending.
The $480 was originally $525 dollars, Coinbase charged me $20.14 to buy Bitcoin aka BTC. Because to do Bitconnect Lending 1st you have to buy Bitcoin (BTC) then you send that to Bitconnect.co and exchange it into Bitconnect Coin (BCC). So let me walk you through how my original $525 turned into a loan of only $480!
The Most Annoying Part Of Bitconnect Lending, The Fees!
Like most people I hate fees, so the day I pushed myself over the 50% edge on whether I should give Bitconnect a try, I was a bit annoyed once I had to pay those annoying transaction fees that you can't get away from. It's the cost of doing business, and as an entrepreneur, I'm no stranger to that element. Although as a person who values money, I hate to part with my money unless something of benefit is going to out weigh the cost of spending my money.
The Simplest & Fastest Way To Get Started With Bitconnect Lending (Print This Page)
The first time you send your money from your account to Coinbase where you will have to buy Bitcoin, and then back to Bitconnect is a lot to take in. There's plenty of guides out there, but hell, I didn't win 2 Excellence In Business Consumer Education Awards from the Better Business Bureau for nothing. I happen to be pretty good at creating tutorials, at least I make a living from doing so and I've been working for myself since 2010. Anyways let's get on with it.
Again print this page or put it on your phone or tablet while you follow the step by step procedure.
Step 1: DON'T Create a Bitconnect Account or any Crypto Lending Account for That Matter
Click on Register and fill out all the standard information.
Just like any other internet sign up, they'll send you an email with a confirmation link so you can confirm the account.
Step 2: DONT Create an Account on Coinbase to Buy Bitcoin (BTC)

Again fill out your information to create and confirm your account through the standard email validation process.
Next you have to fund your Coinbase account by depositing money either through a Credit/Debit Card or Bank Account.
I used my Debit Card and Coinbase made 2 tiny transactions that I had to confirm in order to move forward. At first when I logged onto my bank app, I didn't see the transactions, but a few minutes later they showed up.
Once you confirm your account and confirm the transactions, you're finally ready to buy Bitcoin with your confirmed account.
I wanted to do a $500 Bitconnect Loan but since it was my first time, I wasn't aware of all the fees that would take place. So I chose $525 ­which bought me .0316 BTC or $504.86 of Bitcoin with a $20.14 fee from Coinbase. Cost of doing business in the Crypto Currency World.
Step 3: Getting Ready to Send Bitcoin BTC to your Bitconnect Account
Log on to your Bitconnect account
And in the top right corner, click on the Bitcoin Wallet link.
Now on the left hand side you'll see your Bitcoin Wallet with

Receive Bitcoin (BTC)

in orange letters. Click the green

Deposit Bitcoin (BTC

) button.
Now you'll have a QR code which you can use with your smartphone or simply copy the Receive BTC address underneath it like I did, you'll be pasting it in the next step.
Step 4: Sending Bitcoin (BTC) to your Receive BTC Address
Go to your Coinbase Accounts section https://www.coinbase.com/accounts/
If you are new to Coinbase like I was, you should only have money in your

Coinbase BTC Wallet

.
Click on Send and then paste the Receive BTC Address you copied from the Bitconnect site in step 3.
This process took about 20 – 30 minutes for me, before I was finally able to confirm receiving the money into my Bitconnect account.
Step 5: Exchanging your Bitcoin (BTC) into Bitconnect Coin (BCC)
Now that you transferred your Bitcoin over and it finally appears on the top right corner of the Bitconnect site, you're ready to convert it into the Bitconnect Coins that you will be lending.
On the Bitconnect site click on the blue

<<Exchange >>

button in the top right corner, right next to your Bitcoin Wallet total.
Now you'll see a chart of the value of Bitconnect Coin (BCC), don't worry about that because what you're interested in is making money on the loan, not on holding the actual coins.
Simply scroll down to mid page where it says BUY/SELL BCC
Under the BUY BCC section click the blue

ALL

button select your Bitcoin to be exchanged.
Now simply click the green

+Buy BITCONNECT COIN

button. That's it!
Your order can now be seen under My Open Orders, as long as you followed these steps, your order should fill fairly soon. I made the mistake of trying to get the best BID price and that caused my order not to go trough for an hour. So I had to cancel my first order, and simply use the default settings (Last Bid Price) and then my order was finally filled!
Step 6: FINALLY The Last Step, Starting a Bitconnect Loan!
This is why I told you to print the instructions, because your first time you'll need some guidance to get it done right. Hopefully my award winning instructions have helped you get this far, now let's create that money maker loan.
Go to your Bitconnect Dashboard which is your Bitconnect homepage once you log in.
Write down your Bitconnect Wallet amount, you'll need it soon to confirm.
Now under the heading LEND BITCONNECT / REINVEST simply click on

Lend BitConnect

button.
Now enter the money in USD that you have transferred to Bitconnect after all your fees have been taken out, and simply confirm that the Amount in BitConnect Coin reflects what you actually have in your BitConnect Wallet or slightly less. That's It!
FINALLY YOU'VE MADE IT!
More About My Loan Progress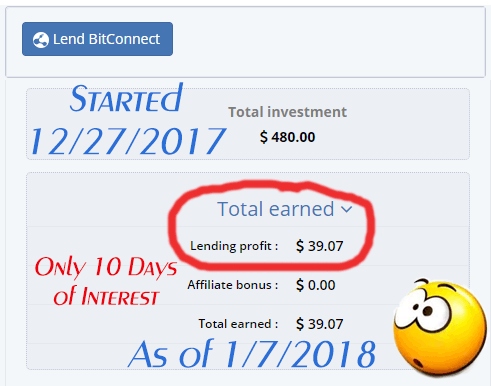 I started my initial Bitconnet Loan on 12/27/2017 at 8am. Every morning I log onto my Bitconnect.co account and see how much money I accumulated. Obviously what they're paying me is far batter than any bank and in a few days it's going to be far better than some of the best performing mutual funds. That's why I took the risk/gamble myself. I simply had to see it for myself.
Most people start with tiny $100 investments, but doing the calculations, $100 was not that exciting in terms of daily interest. Honestly $500 is not that much in daily interest, but this was my experiment as being the first from my friends and family to try this crypto currency investment strategy. It's been going so well that I will put more money in soon and reinvest my Lending Profits to keep growing my daily interest earnings.
DISCLAIMER:
I'm not an investment guru or a financial advisor. Just a retired builder, retired Microsoft Systems Engineer, entrepreneur, and now day trader or I should say aspiring day trader, since I'm spending most of my time learning for now.
Why I Did This Other Than For Myself?
Well, I'd love to help my family, but I'm not rich, at least not yet. This is the only thing that I could tell them about that could possibly help them in the future. My last investment advice was to buy Facebook. My sister and brother in-law did back when Facebook was an IPO and we both did very well on that investment. This is something different, crypto currency is here to stay but there will be dramatic changes to the world because of it. No one knows what truly will happen, but it's a safe bet we are in the beginning of the crypto currency revolution and that early investors will get rich. There's no saying which ICO will be the next Bitcoin, and which ICO will be the best investment overtime. This crypto investment strategy is based on loan interest, except instead of the greedy banks making money on our money, this time we can make money by being the lender.
Do your research and PLEASE don't invest your life savings into Bitconnect Loans or any other Crypto, that would be very foolish and risky. Take what you could live without and see what happens. For some that's $100, for others that could be $100,000. All I can tell you is that despite if Bitconnect turns out to be a scam a few years from now, which I don't think it will, you can still make some money now. The fact is no one really knows what's going to happen with Bitconnect, there's just a lot of guesses. Try to make some money from it while it's still working for every single person, then slowly withdrawal your original capital investment from your loan interest payments and simply make Bitconnect Loans with only the money you made with them. That's my strategy.
Some say the safest way is to play the $100 to $1000 loan with Bitconnect, well look at the loan terms. With anything under $1000 you have to wait for 299 days to get your original capital back. While on the other hand a $10,010 loan will release in 120 days and make you a ton of profit along the way. Somewhere in the neighborhood of $13,000 to $14,000 in profit for a 120 day loan term. Add your original captial investment on top of that, and in 4 months you can withdrawal $23,000! If I were richer, that's what I'd be doing, but only after recognizing the risk. Frankly the more money you invest, the more research you should do.
Planning a Risk / Reward Ratio with Your 1st Bitconnect Investment
The $10,010 loan is the most popular Bitconnect Loan because it provides over $120 in interest payments per day or somewhere in the neighborhood of $3,000 per month of loan interest that you can withdrawal and reduce your risk by 30% every month. You can continue withdrawals in loan interest payments for approximately 3 month,s until you have withdrawn your $10,000 in about 90 days. The smaller amounts are technically riskier because you are locked in for a longer period of time. But hey, look at all the facts, including the fact that there's plenty of haters who are saying it's a scam. Use these facts to figure out how much you're willing to risk.
In stock trading you always play with a good Risk / Reward Ratio. For example you'll risk $100 to make $300. Maybe you should think of this opportunity in the same way. And if you're not in the stock trading world, you're probably not aware of how many hundreds and possibly thousands of scam business operate in the stock market world. If you read their balance sheet or cash flow statements, you wouldn't understand how they could run up 40 to 400% in a single day! It's trully a crazy world out here, but that doesn't mean you shouldn't take calculated risks along the way.
Good Luck and look forward to updates on my Twitter and other social media accounts with what's happening with my Bitconnect Loan. I will be posting future blog posts on day trading for sure, once I have a proven consistently profitable system in place. But when it comes to day trading, you have to invest into your education like you probably never did in your life. I know I never studied this hard and for this long. But I know that everyday I'm getting a lot smarter in the game, and eventually I will be great at it.
Bitconnect on the other hand is a gamble, only because the haters are making it so right now. The same thing happened when Bitcoin was introduced and now it's trading for $16,000 for 1 BTC coin! Do your due dilligence and if you have some money to risk, I would try it out, in fact I already did!
Best Wishes,
Voitek Lex Klimczyk